The Shark and Ray Touch Tank is temporarily closed for maintenance.
We apologize for the inconvenience.
The Aquarium Lecture Series is presented free to the public through the generosity of the Lowell Institute. Look back at some of our recent speakers; some lectures have been recorded and are available to watch.
Since 1972, the Aquarium has been providing free lectures and films by scientists, environmental writers, photographers, and others. Lectures are free and open to the public.
Upcoming Lectures
Sharks Unknown: Changing the Face of Shark TV
A Screening with Shark Scientist Jasmin Graham
Thursday, December 7, 2023 | 6:30 p.m.
In person at the Simons Theatre or via live stream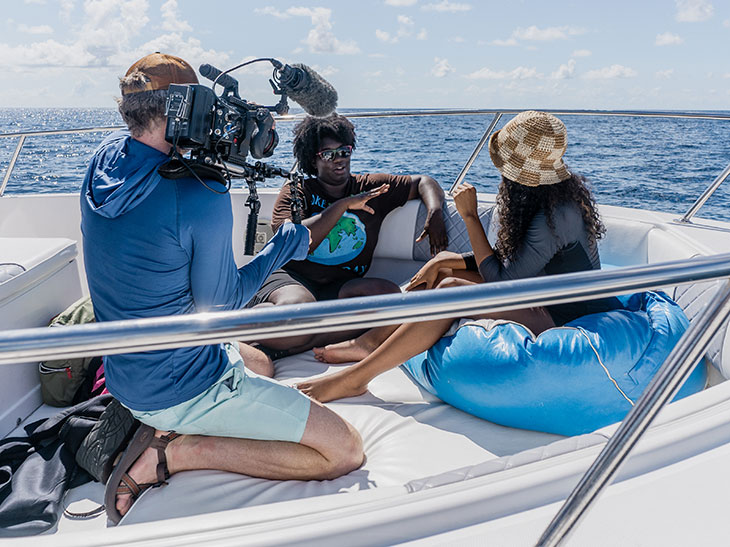 The New England Aquarium Lecture Series presents renowned shark scientist and environmental educator Jasmin Graham. Graham specializes in elasmobranch (shark and ray) ecology and evolution and is president and CEO of Minorities in Shark Sciences (MISS), an organization dedicated to supporting women of color in shark sciences.
She will screen an episode of her new PBS Terra series, Sharks Unknown with Jasmin Graham, and share how she and MISS have moved the shark documentary genre beyond white sharks and white men. Graham's talk will dive into the vision for the show, the importance of sharks, and the importance of inclusivity in shark research and conservation.
This New England Aquarium Lecture Series event is free to the public and presented in partnership with the Lowell Institute. Advance registration is required.
About the Speaker
Jasmin Graham's work encompasses the areas of science communication, social justice, outreach, education, and conservation. Her research interests include smalltooth sawfish movement ecology and hammerhead shark phylogeny, and she cares deeply about protecting endangered and vulnerable marine species. She works in collaboration with Havenworth Coastal Conservation to study movements of elasmobranchs in Sarasota Bay. As President and CEO of Minorities in Shark Sciences (MISS), Graham helps open doors for more underrepresented minority students to join the exciting field of marine science. She also has a passion for science education and making science accessible to everyone.
Graham serves on the Board of Directors as well as the Equity and Diversity Committee for the American Elasmobranch Society. She is project coordinator for the MarSci-LACE project, which is focused on researching and promoting best practices to recruit, support, and retain minority students in marine science. She has been featured on Dive In with Sylva Earle and StarTalk with Neil DeGrasse Tyson, among other podcasts and webinar series. She was an organizer for the 2020 Black in Marine Science Week and is a member of Black Women in Ecology, Evolution, and Marine Science (BWEEMS). Graham was named a 2021 WWF Conservation Leader.
She earned a B.S. in Marine Biology and a B.A. in Spanish from the College of Charleston and an MSc. in Biological Science from Florida State University through the National Science Foundation's Graduate Research Fellowship Program.
2023
Explore the 2023 lectures line-up.
2022
Explore the 2022 lecture series events.
Last of the Right Whales is a documentary film by award-winning filmmaker Nadine Pequeneza. This film examines the plight of the critically endangered North Atlantic right whale and documents the extraordinary efforts of a group of allies, including a wildlife photographer, a marine biologist, a whale rescuer, and a crab fisher, to better understand and save these majestic animals.
Last of the Right Whales is the story of the rapid decline of a nearly 12-million-year-old species due to unintended human consequences, including loss of feeding grounds owing to climate change, grievous injuries caused by fishing line entanglements, and vessel strikes. Through extraordinary cinematography and unprecedented access to film the whales' migration, comes a story of hope and a call to action we cannot ignore.
A panel discussion followed this in-person only event in the Simons Theatre. Panelists included:
This Aquarium Lecture Series event is free to the public and presented in partnership with the Lowell Institute, HitPlay Productions, and the International Fund for Animal Welfare (IFAW).
Caribbean marine biologist and 2020 National Geographic Emerging Explorer Dr. Diva Amon discussed the Earth's deep oceans and why they matter. Earth is a blue planet, with over 96% of all habitable space provided by the deep ocean. And as on land, there are an extraordinary variety of ocean habitats: undersea canyons, mountains, plains, volcanoes, hot springs, forests, and even lakes. Giant leaps in technology have bolstered our knowledge and understanding of this final frontier, but still less than 0.05% of it has ever been explored. And now, our world is changing: standards of living for many are on the rise and our demand for resources are increasing with the blue economy heralded as a possible solution. Never has the fate of our ocean felt so pressing. Dr. Amon introduced us to parts of the planet that few others have seen.
About the Speaker
Dr. Diva Amon is a Caribbean marine biologist, 2020 National Geographic Emerging Explorer, and researcher of the weird and wonderful animals in parts of the deep ocean that few, if any, have visited before. She is currently featured in the new National Geographic and Disney+ series, Welcome to Earth.
She has spent over a year of her life on expeditions around the world, exploring previously unknown ocean habitats from Antarctica to the Mariana Trench. Dr. Amon regularly ventures down into the depths in submersibles, with her deepest dive to 2.6 kilometers below the ocean surface in the Cayman Trench.
Studying the ever-increasing impacts that humans are having on the deep ocean, including deep-sea mining, pollution, and climate change, has led Dr. Amon to campaign for stricter regulations on the global stage, often speaking at the United Nations, International Seabed Authority, Convention on Biological Diversity, and the Nobel Prize. A Pew-Bertarelli Ocean Ambassador and winner of the WINGS Worldquest Women of Discovery Sea Award, she shares her understanding and experience of this little-known environment with the public through television appearances and talks at universities, conferences, festivals, and organizations.
Dr. Amon is co-founder of the non-profit NGO SpeSeas, dedicated to increasing marine science, education, and advocacy in Trinidad and Tobago and the wider Caribbean. Her path, given her Caribbean origins—she received her Ph.D. in ocean and earth science and her M.Sc. in marine biology from the University of Southampton—has been a unique one, and as a result, she works to increase accessibility and inclusivity in marine science through the excellent work of SpeSeas.
This New England Aquarium Lecture Series event featured award-winning Montserratian ocean conservationist Veta Wade. Wade is the founder of Fish 'N Fins Inc., a marine conservation program in Montserrat for Caribbean children that teaches them to swim, snorkel, and get involved in marine science. By 2030, Fish 'N Fins Inc. aims to teach at least half of all Afro-Caribbean children how to swim as many fear the ocean and avoid it altogether. Veta will take you on her journey, using Fish 'N Fins as a case study, to accelerate progress on the United Nation's Sustainable Development Goal #14 and beat entrenched social and economic inequalities to act urgently for our ocean this decade. Her talk highlighted The Fish 'N Fins Smart(er) Tourism approach to ocean and coastal restoration and protection that seeks to embed science, learning, and exploration technologies within the tourism industry, to advance a more equitable and resilient Caribbean blue economy.
About the Speaker
Veta Wade is an award-winning Montserratian ocean conservationist from Happy Hill, Montserrat. She is an access and ocean equity consultant and thought leader whose work relies on equitable partnerships that reject a colonial approach to conservation and center on social equity. Wade is also a key partner at the Ocean Heroes Network and a collaborator with the Ocean Discovery League. She works on the digitalization of fisheries through Project DigiFish Barbados with Pelagic Data Systems. Her vision is to help transform the way ocean data is collected and communicated through participatory science, so that island communities can better contribute to global knowledge about the topics and places they care about and know best.
Veta Wade's work to promote marine conservation more broadly includes her media series, The Blue Zone, her design and delivery of the AQUA Caribbean Blue Economy Conference 2020, and her recent whitepaper, A Framework for the Equitable Caribbean Blue Economy. In addition to running Fish 'N Fins Inc., she is an active member of the Island Innovation Network; an advisory member to the Government of Montserrat's Conservation & Environmental Management Act 2014; and a mentor at the Seaworthy Collective and to ocean-climate youth activists across the world. In 2020, Wade was recognized by the Global Ocean Awards as a leader on marine conservation issues within the Caribbean through her non-profit organization Fish 'N Fins Inc. She is currently enrolled in the United Nations' Ocean Decade Early Career Ocean Program, with a focus on the Deep Sea Ocean Strategy 2022–2025. She attended Nottingham University Business School and holds a bachelor's degree in Management Studies.
Hear the incredible story of Robert Smalls, an intrepid Black man who took command of a Confederate ship called The Planter in Charleston, South Carolina, on May 13, 1862, and liberated himself and his family from enslavement. After the Civil War, he continued public service in a variety of roles, including five terms as a US Congressman. Living on Earth Host Steve Curwood will talk with Robert Smalls' great-great-grandson Michael Boulware Moore and Admiral Cecil Haney USN (Ret), one of only three Black four-star admirals in US Navy history, about Black courage, liberation, and the bold pursuit of a better future.
This livestreamed event is presented by Living on Earth, the New England Aquarium, the Lowell Institute, and the UMass Boston School for the Environment.
This New England Aquarium Lecture Series event features acclaimed underwater photographer Keith Ellenbogen, whose work can be seen in "Space to Sea: A Photographic Journey into Stellwagen Bank National Marine Sanctuary," on view through November 1 on Boston's Central Wharf. Ellenbogen is known for his intimate portraits of underwater life that captivate the imagination and compel interest in the natural world. His photography of Stellwagen Bank National Marine Sanctuary offers an up-close look at an ocean ecosystem that helps perpetuate life-sustaining food chains throughout Massachusetts Bay and beyond. This national treasure lies 25 miles off the coast of Boston and supports almost 600 documented ocean species, including migratory sea birds, numerous species of fish, such as Atlantic cod, striped bass, and herring, in addition to seals, sharks, sea turtles, and whales. Ellenbogen and his amazing underwater photos will introduce you to the fascinating residents of a vast underwater neighborhood that gets little notice yet contributes hugely to our state's commercial and recreational economy, as well as to the overall health of Massachusetts' coastal waters.
This event is made possible by the Lowell Institute; the New England Aquarium; the National Oceanic and Atmospheric Administration's Stellwagen Bank National Marine Sanctuary; the National Marine Sanctuary Foundation; and the MIT Sea Grant College Program at the Massachusetts Institute of Technology.
The fall 2022 New England Aquarium Lecture Series kicks off with acclaimed oceanographer, explorer, and scientist Dr. Sylvia Earle. Recognized as a "Living Legend" by the Library of Congress, Dr. Earle has led more than 100 ocean expeditions and spent some 7,500 hours underwater researching marine ecosystems and the deep ocean. She shares research from her new book, National Geographic Ocean: A Global Odyssey, and make the case for why the state of our sea matters to everyone, everywhere, all of the time—regardless of where we live.
Dr. Earle is the President and Chairman of Mission Blue, an Explorer in Residence at the National Geographic Society, Founder of Deep Ocean Exploration and Research Inc. (DOER), Chair of the Advisory Council for the Harte Research Institute, and former Chief Scientist of NOAA. Called "Her Deepness" by the New Yorker and the New York Times, she is an author and lecturer, and the recipient of more than 100 national and international honors and awards, including being named Time Magazine's first Hero for the Planet.
Fish that "talk" to each other with electricity, turtles that can track Earth's magnetic fields, and giant squids with eyes the size of soccer balls—the largest on the planet. Underwater wonders like these abound in bestselling science writer Ed Yong's new book, An Immense World: How Animal Senses Reveal the Hidden Realms Around Us. Acclaimed journalist and Living on Earth Host Steve Curwood interviews Yong about the vast and varied ways that animals employ their senses, and the knowledge and joy humans can take from these observations.
Ed Yong is a Pulitzer Prize-winning science writer on the staff of The Atlantic, where he also won the George Polk Award for science reporting, among other honors. His first book, I Contain Multitudes: The Microbes Within Us and a Grander View of Life, was a New York Times bestseller and won numerous awards. His work has appeared in The New Yorker, National Geographic, Wired, The New York Times, Scientific American, and more. He lives in Washington, D.C., with his wife, Liz Neeley, and their corgi, Typo.
This Aquarium Lecture Series event is free to the public and presented in partnership with the Living on Earth Book Club, the Lowell Institute, and the UMass Boston School for the Environment.
The New England Aquarium Lecture Series and the Lorenz Center of the Department of Earth, Atmospheric, and Planetary Sciences at MIT present the John Carlson Lecture featuring Dr. Jess Adkins.
With the burning of fossil fuels, the human race is conducting an experiment of unprecedented magnitude—carbon dioxide (CO2) is warming the planet and we are not sure how this will turn out. Even as we move to electrify the economy and leave fossil fuels behind, we must find ways to remove CO2 from the Earth's atmosphere to avoid the worst outcomes of climate change. Reducing CO2 emissions alone is no longer enough. In this talk, Dr. Adkins—a chemical oceanographer who studies the history of the Earth's climate—shares how a project that started with the basic science question of 'How quickly do corals dissolve when the ocean acidifies?' turned into a possible way to remove carbon dioxide from the atmosphere at scale.
Dr. Jess Adkins is the Smits Family Professor of Geochemistry and Global Environmental Science in the California Institute of Technology's Department of Environmental Science and Engineering. As a chemical oceanographer, Dr. Adkins focuses on geochemical investigations of past climates using corals, sediments, and their interstitial waters; rate of deep ocean circulation and its relation to mechanisms of rapid climate changes; metals as tracers of environmental processes; and radiocarbon and U-series chronology. After completing a bachelor's degree in chemistry at Haverford College, Dr. Adkins earned his Ph.D. studying chemical oceanography, paleoclimatology, and geochemistry in the MIT – Woods Hole Oceanographic Institution Joint Program. He joined the faculty of the California Institute of Technology in 2000.
The John Carlson Lecture Series communicates exciting new results in climate science to the general public. Free of charge and open to the general public, this lecture is made possible by a generous gift from MIT alumnus John H. Carlson to the Lorenz Center in the Department of Earth, Atmospheric, and Planetary Sciences, MIT, and is presented in partnership with the New England Aquarium and the Lowell Institute.
This New England Lecture Series event featured Whitney C. Johnson, Director of Visuals and Immersive Experiences at National Geographic, who spoke about how by expanding storytelling methods and embracing new ways to create and distribute their stories, the 133-year old National Geographic magazine is sharing empowering moments with millions of people.
This event was presented in partnership with the Scout Film Festival and the Lowell Institute. The Scout Film Festival supports, empowers, and connects emerging filmmakers and visual storytellers worldwide aged 24 and under working in short film, photography, and innovation.
This New England Aquarium Lecture Series event features Dr. Joshua Boger, a scientist, entrepreneur, and professional underwater photographer, who introduces us to the extraordinary world of giant clams (genus Tridacna). As the largest living bivalve mollusks, giant clams can reach sizes as large as 4.5 feet and weigh as much as 550 lbs. These highly colorful animals are distributed widely in the warmer parts of the Pacific and Indian Oceans and can live 100 years or more, each fixed to one spot for all its adult life. Illustrated with underwater macro photographs from more than twenty years of diving, Dr. Boger showcases these beautiful gentle animals that are under threat from overfishing, pollution, and ocean warming.
Dr. Boger is the Founder and Former CEO of Vertex Pharmaceuticals. He holds a Bachelor of Arts in Chemistry and Philosophy from Wesleyan University and his master's and doctorate degrees in Chemistry from Harvard University. Dr. Boger is an expert scuba diver, with more than 800 logged dives, and a professional underwater photographer, concentrating on macrophotography that explores detailed colors and patterns in unfamiliar underwater environments to illuminate a broader visual understanding and appreciation of our blue planet.
2021
Explore the 2022 lecture series events.
This event of the New England Aquarium Lecture Series featured National Geographic photographer and New England Aquarium Explorer-in-Residence Brian Skerry, who discussed the hidden culture of whales. Brian shared insights gleaned over three years while shooting the new Disney+ original series, Secrets of the Whales, and discuss his new book of the same title, as well as his work in National Geographic Magazine's The Ocean Issue (May 2021).
About the Speaker 
Brian Skerry is an award-winning photojournalist and visual storyteller specializing in marine wildlife and underwater environments. A contributing photographer for National Geographic Magazine since 1998, he covers stories on every continent and in nearly every ocean habitat.
His work has been featured in publications such as The New York Times, The Washington Post, Paris Match, Esquire and Audubon. He is the author of 12 books, including the acclaimed monographs Ocean Soul and SHARK. His latest book, Secrets of the Whales, is part of a multiplatform project he created that includes a cover story in National Geographic Magazine and a four-part series on Disney +.
Brian frequently lectures on ocean exploration, storytelling, and conservation. He is an Explorer-In-Residence and Trustee at the New England Aquarium, a founding member of International League of Conservation Photographers, and a Fellow National of the Explorers Club. He also serves as a Nikon Ambassador.
Watch this New England Aquarium Lecture Series event featuring internationally acclaimed Sri Lankan marine biologist Dr. Asha de Vos, who aims to change how we think about and carry out marine conservation. Fresh out of the University of St. Andrews, and while working on a whale research vessel as a deckhand, she discovered a unique population of blue whales that inhabit the waters around Sri Lanka year round. This groundbreaking discovery—previously, all blue whales were thought to be migratory—and her research journey have challenged the existing marine conservation model and her view of it. Now, she strongly believes every coastline needs an army of local ocean heroes.
Watch this New England Aquarium Lecture Series event featuring Cornell William Brooks, distinguished professor, civil rights attorney, ordained minister, and former president and CEO of the NAACP. If humanity has an inborn affinity and perhaps affection for nature—what E.O. Wilson describes as biophilia—humans have a responsibility to the environment. This responsibility may be morally described as "a calling." This moral calling is not necessarily religious but historical and local. At the very moment when many American cities are being economically revitalized and the global environment is existentially threatened, history morally calls urban residents and suburban neighbors to protect our environment—with a boldly different citizen activism.
America and the world are racing to protect 30 percent of our lands, waters, and ocean by 2030 in order to prevent mass extinctions and bolster resilience to climate change. To achieve such a bold goal, we need to spread awareness of the challenges facing our natural world and inspire humans to preserve it. As we embark on the ocean decade and countdown to 2030, art and creativity can provide the catalyst we need.
Featuring:
Akira Biondo
Director of Operations, PangeaSeed Foundation
Priscilla Brooks
Vice President and Director of Ocean Conservation, Conservation Law Foundation
Linda Cabot
Founder and President, Bow Seat Ocean Awareness Programs
Kannan Thiruvengadam
Community Engagement and Environmental Resilience Strategist, Sea Walls Boston
Richard Vevers
Founder and CEO, The Ocean Agency
Moderated by:
Dr. John Mandelman, Ph.D.
Vice President and Chief Scientist, Anderson Cabot Center for Ocean Life, New England Aquarium
Watch this New England Aquarium Lecture Series event featuring Dr. Jonathan Foley, a leading climate scientist, sustainability expert, educator, and public speaker. Dr. Foley is also the executive director of Project Drawdown—the world's leading resource for climate solutions. Yes, the news on climate change is grim. But what if there was a practical plan, based on the latest science, that could turn it around and help us build a climate-safe future? That's what Project Drawdown is all about. Drawdown is a multi-faceted set of solutions—focused on fixing the world's energy, food, and material systems—that can help us stop climate change and pivot to a better, more sustainable world.
Watch this New England Aquarium Lecture Series event featuring acclaimed scientist, astronaut, and explorer Dr. Kathy Sullivan. The first American woman to walk in space, Dr. Sullivan is a veteran of three space shuttle missions. In 2020, she made history again by becoming the first woman to visit the deepest known spot in the ocean, the Challenger Deep in the Mariana Trench, which is seven miles below the surface of the Pacific Ocean. Dr. Sullivan shares details of her remarkable deep sea expedition and discusses the challenges of exploring an environment that is in some ways harsher and less known than space.
Watch this conversation with filmmaker, naturalist, and Sea Change Project co-founder Craig Foster, who discusses Underwater Wild: My Octopus Teacher's Extraordinary World, his new book (with Ross Frylinck) based on experiences he chronicled while making his Oscar-winning documentary. Underwater Wild offers a stunning window into Foster's free-diving explorations in the frigid ocean kelp forests of False Bay, located on the Western Cape of South Africa. Using his extraordinary animal tracking skills, Foster uncovers a plethora of new aquatic animal behaviors and species, including a new shrimp named in his honor: Heteromysis Fosteri. Acclaimed journalist and Living on Earth Host Steve Curwood interviews Foster about these never-before-photographed scenes of marine life and why these novel experiences hold meaning for us all.
This Aquarium Lecture Series event is presented in partnership with the Living on Earth Book Club, which features authors of recently published environmental books; the Lowell Institute; and the UMass Boston School for the Environment.
Aquarium Lectures Series Playlist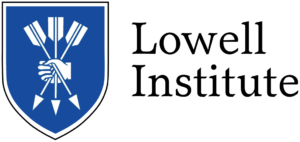 The Aquarium Lecture Series is made possible due to the generous support of the Lowell Institute. Founded in 1836 with a mission to inform the populace regardless of gender, race, or economic status, the Lowell Institute has reached thousands of Boston-area residents by sponsoring free public lectures and other educational programs.
Email aquariumlectures@neaq.org with questions.
Subscribe to receive lecture invitations:
Events and Programs
Learn more about educational events hosted by the New England Aquarium.