The Shark and Ray Touch Tank is temporarily closed for maintenance.
We apologize for the inconvenience.
Kicking Off "Our Heritage Our Planet" Film Week at the Aquarium
For the second year in a row, the Simons Theatre is hosting the festival of feature shorts that spotlight Latino, Black, and Indigenous voices.
By New England Aquarium on Monday, September 25, 2023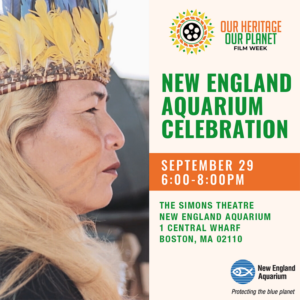 On September 29, the New England Aquarium, in partnership with the Hispanic Access Foundation, will host the Our Heritage, Our Planet film screening at the Simons Theatre. This in-person special event showcases the stories, culture, and heritage of Latino, Black, Indigenous voices, and people of color through five short feature films. A Q&A with the Hispanic Access Foundation team and community leaders will follow the screening.
"It's an honor to be able to financially support filmmakers of color through Our Heritage, Our Planet Film Week," said Maite Arce, president and CEO of Hispanic Access Foundation. "Too often these are the voices that are left out, misunderstood, or deemed not as valuable on the topics of climate and environmental justice, when these issues impact our communities the most severely. We hope through our film festival, we're helping to showcase filmmakers of color and elevate their stories, culture and heritage, but also start a dialogue between communities and decision-makers around the importance of engaging in climate action and policy during these events."
Read on to learn more about this year's featured films and directors.
The Shade Black
The Shade Black tells the story of a young adult who lives in a community largely affected by soot due to the increasing activities of oil exploration and indiscriminate combustion of fossil fuel in the Niger Delta region of Nigeria. Directed by Chavala Yaduma, a Nigerian-born and raised writer and film director. Yaduma built her own production company, Vala Films, which creates content, independent films, television commercials, and more.
Criaturas
Criaturas is a series of folkloric-style short, animated films, told in English and Spanish, that share the story of five insects who have essential roles in their ecosystems and who are affected by different aspects of climate change. Directed by Paula Lovo, a Latine artist, educator, and film programmer from Milwaukee, WI. Lovo's work taps into intergenerational relationships, spaces that create community, and memory tied to migrations.
El Medio Ambiente desde Mis Ojos
El Medio Ambiente desde Mis Ojos is a short Spanish film highlighting Puerto Rico's deaf community's experiences with the environment and accessibility, featuring deaf people from different backgrounds that all connect with natural spaces in their own unique ways. The short is directed by Shley Suarez Burgos and Fabiola Torres. Suarez Burgos was born and raised in Miami, FL. She discovered conservation-based storytelling from a young age and currently serves as a member of the Oceans Advisory Council/OYA, MANO Alumni Board, NASA IDEA Panel, and Treesources. Torres is from a rural area in Puerto Rico and has earned a master's in biology at UCLA with a thesis on leatherback sea turtles. Fabiola founded Conservation Opportunity, a nonprofit in Puerto Rico that connects people with wildlife conservation opportunities.
Yola
Yola features the story of Ahari, a DACA recipient, who sets off for a vacation to Puerto Rico but is forced to make an emergency landing in the Dominican Republic. There, he meets a young woman who dreams of a better life and inspires him to find a new appreciation for his culture and heritage. Together, they embark on a journey back to American soil.
The film is directed by Kristina Andez and Alejandra Quiroz. Andrez is a Los Angeles-based filmmaker and has been featured at the LA Latino International Film Festival. She holds a bachelor of arts in cinema and television arts–film production from Cal-State, Northridge. Quiroz is a writer, producer, director, and podcast host, originally from Honduras and raised in Los Angeles, California. She earned her bachelor of arts in cinema and television arts and Central American studies from Cal State, Northridge.
La Matanza
La Matanza showcases an ancient Spanish tradition of rebellion but also community building that came to Mexico in the 16th century. The film creates a pathway for Spanish families to continue this ancient tradition to maintain community, culture, and heritage. Directed by Gregg Flores, a filmmaker from Albuquerque, NM. Flores earned a bachelor of science in civil engineering from the University of New Mexico and a master's in structural engineering and computational mechanics at the University of Colorado at Boulder. Flores has produced stories for REI, the National Wildlife Federation, Conservation Lands Foundation, Latino Outdoors, and more
Let's Take Action for the Ocean Together
Membership, volunteering, advocating, or attending events are just a few of the ways you can join us in protecting the blue planet.