The Shark and Ray Touch Tank is temporarily closed for maintenance.
We apologize for the inconvenience.
The Aquarium is located on Central Wharf, overlooking Boston Harbor, and is part of Boston's downtown waterfront. Whether you are visiting the Aquarium, seeing a film at the Simons Theatre, exploring our free outdoor art exhibit, catching a Whale Watch or Duck Tour, or strolling the Harborwalk, we welcome you!  
PHOTO EXHIBIT
Space to Sea: A Photographic Journey into Stellwagen Bank
With 50 large-scale photographs wrapping the Aquarium's Simons Theatre and exterior of the Main Building, acclaimed underwater photographer Keith Ellenbogen brings the rich and surprising biodiversity of marine life off the Massachusetts coast—including great white sharks, humpback whales, plankton, and North Atlantic right whales—up close for visitors to see.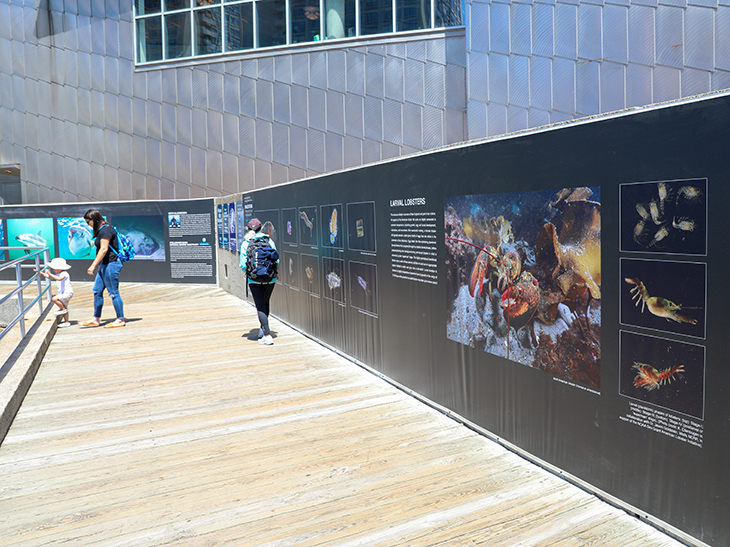 EXPLORE THE CITY
Boston Duck Tours
With the option to depart from the Aquarium, world famous Boston Duck Tours are a convenient and fun way to learn about the city of Boston. The 80-minute tour will guide you through Boston's many historical landmarks and unique neighborhoods—from land and sea.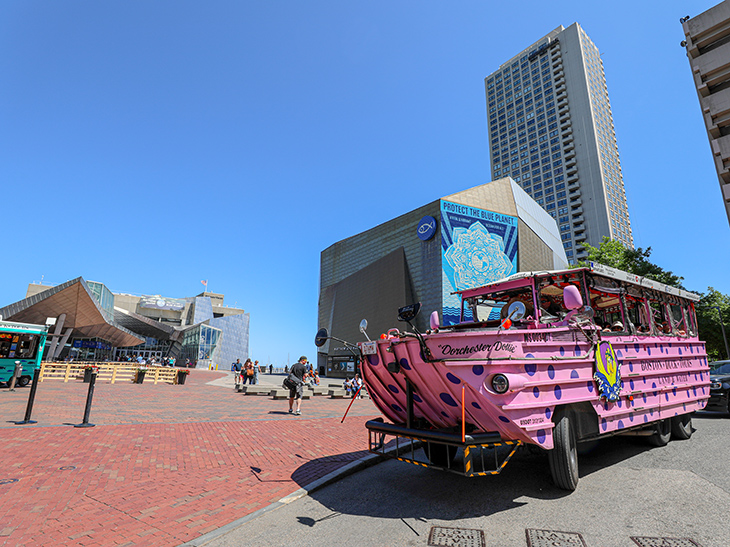 FOOD & BEVERAGE
Dining on Central Wharf
Whether it's a casual lunch and cold beverage at Dockside on Central Wharf, our public beer garden, to a cone at Ben & Jerry's, enjoy a number of dining options right on the Aquarium plaza.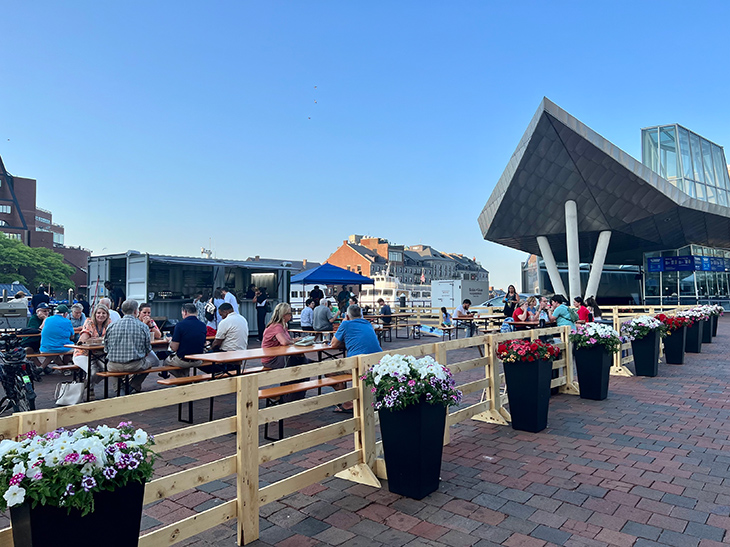 A Downtown Waterfront for All
Boston's residents—from every neighborhood—deserve a publicly accessible, resilient, and inclusive waterfront. Learn more about the New England Aquarium's work to support a Downtown Waterfront for All.
BOSTON HARBOR CITY CRUISES
New England Aquarium Whale Watch
Sail to Stellwagen Bank National Marine Sanctuary, a rich feeding ground for whales, dolphins, sea birds, and other marine creatures. Stellwagen is home to many species of large whales, including humpbacks, finbacks, minkes, and the critically endangered North Atlantic right whale. Naturalists onboard will share knowledge and answer questions. Runs mid-May through November.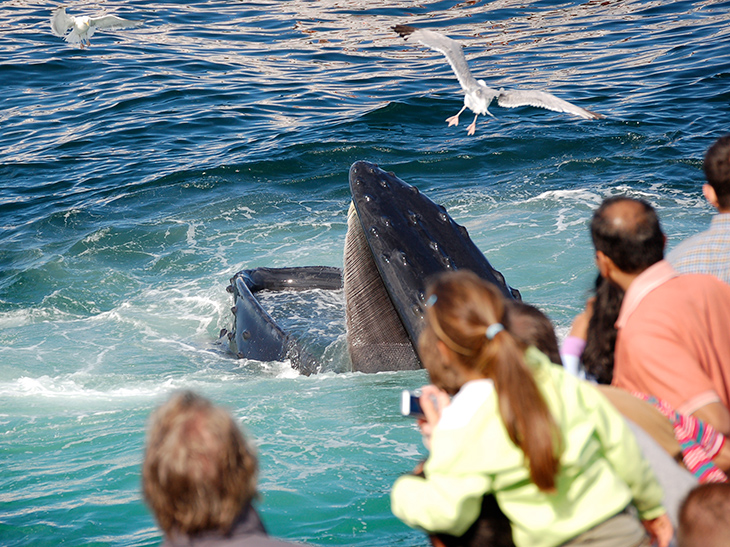 BOSTON HARBOR CITY CRUISES
Ecoventures Cruise
Part wildlife observation opportunity and part marine life and ocean conservation educational experience, Ecoventure dives into Boston Harbor's past and present and how it is tied to the Massachusetts Bay ecosystem. See the marine animals, shorebirds, and seabirds that live off Boston's coast in spring. Runs April 1 through mid-May.
Harborwalk
Enjoy a piece of the 43-mile Harborwalk, which stretches from East Boston to Dorchester. Along the Harborwalk, observe maritime industrial areas and working ports, go for a swim, visit parks, explore museums, sample foodie destinations, and more.