The Shark and Ray Touch Tank is temporarily closed for maintenance.
We apologize for the inconvenience.
Field trips and programming available at reduced rates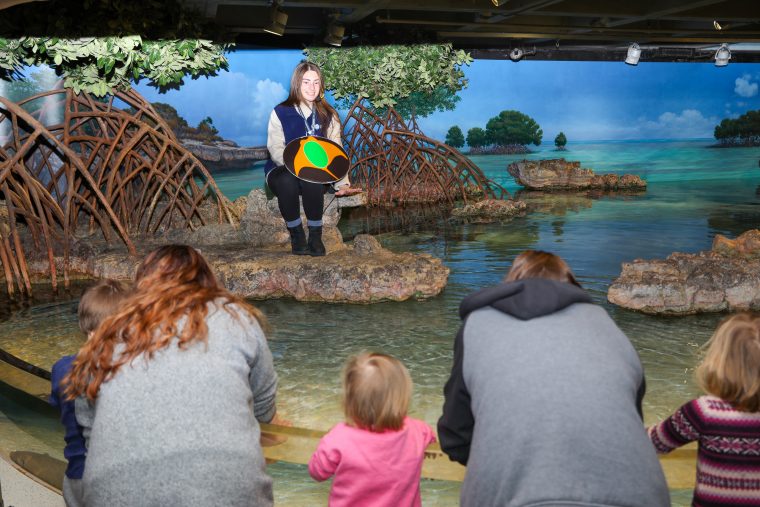 BOSTON, MASS. (Jan. 17, 2023) – This winter and spring, the New England Aquarium is offering special in-person educational programs for the growing number of homeschooling families in the area. More than 13,000 children were homeschooled in Massachusetts during the 2021 to 2022 school year, according to the Massachusetts Department of Elementary and Secondary Education. Pre-pandemic, the number of children learning at home averaged nearly half that, around 7,000.
The Aquarium's homeschool programs are available monthly from January to March.
Tuesday, January 31: Giant Ocean Tank – An educator and diver will talk at the top of the Giant Ocean Tank from 9:00 to 9:45 a.m. about the species that live in the four-story, 200,000-gallon tank that more than 1,000 marine animals call home.
Tuesday, February 28: Shark Science – Enjoy early access to the Trust Family Foundation Shark and Ray Touch Tank beginning at 9:00 a.m. A member of the Aquarium's shark research team will share facts about sharks and answer questions from visitors about shark science, tagging, and more.
Tuesday, March 28: Marine Mammals – An educator and marine mammal trainer will share the exciting world of seals and sea lions with visitors, providing biofacts and information about enrichment, feedings, animal well-being from 9:00 to 9:45 am. Then, visitors will join a harbor seal training session.
Tickets for the educational programs are $10 per student—in addition to the cost of admission—and include one complimentary adult entry into the Aquarium. Each session is limited to 20 children. The Aquarium is also offering discounted admission for homeschool families on Tuesdays through the end of March ($12 for children and $21 for adults), with February 21 excluded from the promotion. Tickets can be purchased by calling the Reservations Department at 617-973-5206 daily between the hours of 9:00 a.m. and 4:30 p.m.
The Aquarium is committed to providing interactive and informative programming for students in homeschool programs. In addition to the onsite special programs, the Aquarium has a host of activities on the institution's website that help visitors explore the Aquarium more deeply, encourage content learning, and improve science skills as well as support math and literacy development.
Some of the special programming includes ecology, ethology, or zoology. Each activity includes a list of recommended materials to bring with you and educators are available to help with those investigations. Visit www.neaq.org/learn/home-school-programs/ for more activities.
MEDIA CONTACT:
Pam Bechtold Snyder – psnyder@neaq.org, 617-686-5068