The Shark and Ray Touch Tank is temporarily closed for maintenance.
We apologize for the inconvenience.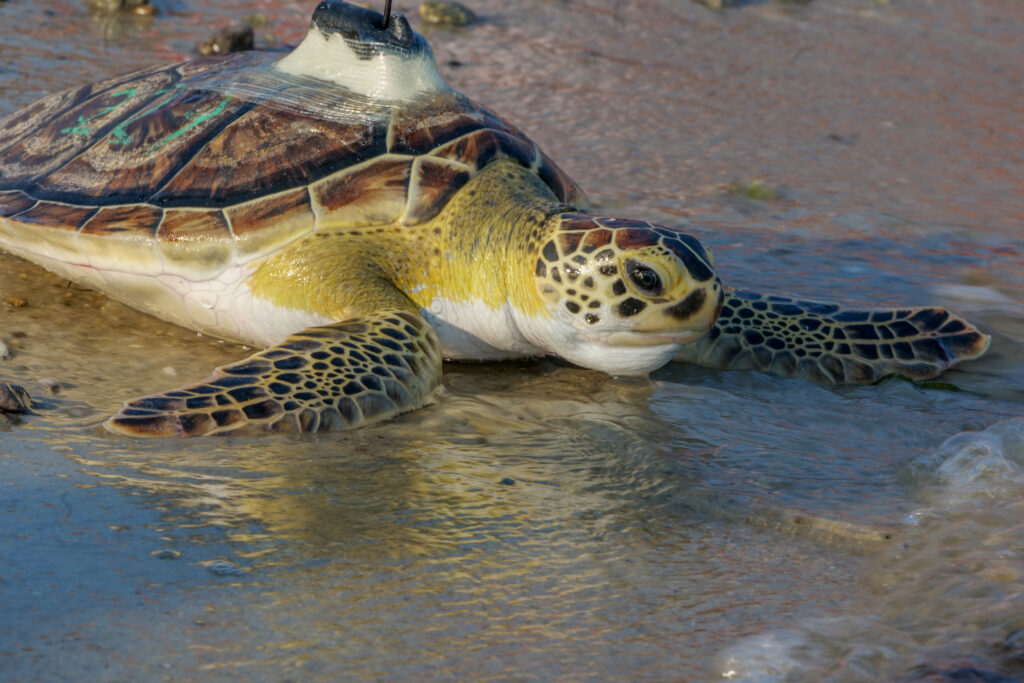 WEST DENNIS BEACH, MASS. (July 12, 2023) – Five sea turtles, rehabilitated by the New England Aquarium after stranding last winter, cold-stunned, emaciated, and with low heartbeats, were returned to warmer waters off Cape Cod this afternoon in much better health and amid cheers from bystanders. All five of them are satellite-tagged so scientists in the Aquarium's Anderson Cabot Center for Ocean Life can monitor their migration progress.
**PHOTOS AND VIDEO AVAILABLE HERE WITH CREDIT TO NEW ENGLAND AQUARIUM**
Of the turtles released today were three critically endangered Kemp's ridley sea turtles and two endangered green sea turtles that spent months at the Aquarium's Sea Turtle Hospital in Quincy, Mass. They underwent treatment for conditions such as pneumonia, dehydration, weight loss, low heart rates, and one abscess that needed surgery, a result of being stranded on Cape Cod beaches in November and December last year when ocean waters turned cold.
"This is the culmination of our work every year," said Adam Kennedy, Director of Rescue and Rehabilitation at the New England Aquarium. "We've seen thousands of turtles enter our hospital from  the shores of Cape Cod during the cold weather months. Our great reward is to put them back into their ocean home. fully recovered. This is why we do what we do so that we can help save these species so they continue on this earth for many more generations."
Among the five that made a significant recovery was Fideo, the largest Kemp's ridley turtle in the Aquarium's care these past few months. When Fideo stranded last November, the turtle weighed 32 pounds. Since then, it has grown to more than 1 1/2 -feet-long and now weighs 44 pounds. Fideo had an abscess on the back of its neck which needed surgery and has since healed.
The two other Kemp's ridley sea turtles, Garganelli and Shirataki, released today also stranded last December with low heart rates. They both recovered at a similar pace and grew two inches in length and gained 10 pounds each during their recovery.
Pici, a green sea turtle, stranded back in November with a very low heartbeat and has since made a full recovery. Couscous, the second green sea turtle released today, stranded last November with half of its shell covered in barnacles. Over time, most of the barnacles fell off which the Aquarium staff discovered were compromising the turtle's keratin on its shell. Now, Couscous is fully healed.
Aquarium staff, volunteers, and interns have a tradition of naming the turtles receiving months-long care, and this year's theme was pasta and noodle shapes.
Staff and volunteers from Mass Audubon's Wellfleet Bay Wildlife Sanctuary rescued the turtles from Cape Cod beaches during the annual cold-stunning event, which began in November 2022 and went into January 2023. The rapidly changing ocean temperature and wind pattern causes many turtles to become hypothermic and strand onshore, at which point the Mass Audubon team transports the animals to the Aquarium's Sea Turtle Hospital to be triaged and rehabilitated.
The Aquarium treated a total of 518 turtles over the course of the 2022 season. Staff veterinarians worked with staff biologists to create individualized treatment plans for the hospitalized turtles, who require weeks or months of care depending on the severity of their illness. The remaining 17 turtles at the Aquarium facility will hopefully be released off Cape Cod in the coming weeks of summer.
The number of annual cold-stunned sea turtle strandings in Massachusetts varies from year to year but has steadily increased from around 50 in 2000 to about 900 in 2022, making it the third-busiest season on record. Scientists have predicted through statistical modeling that by 2031, these events will bring thousands of sea turtles to our shores annually.
MEDIA CONTACT
Hannah Miller, 413-717-7759; hannah@teakmedia.com