The Shark and Ray Touch Tank is temporarily closed for maintenance.
We apologize for the inconvenience.
Southern New England is an increasingly important habitat for the critically endangered species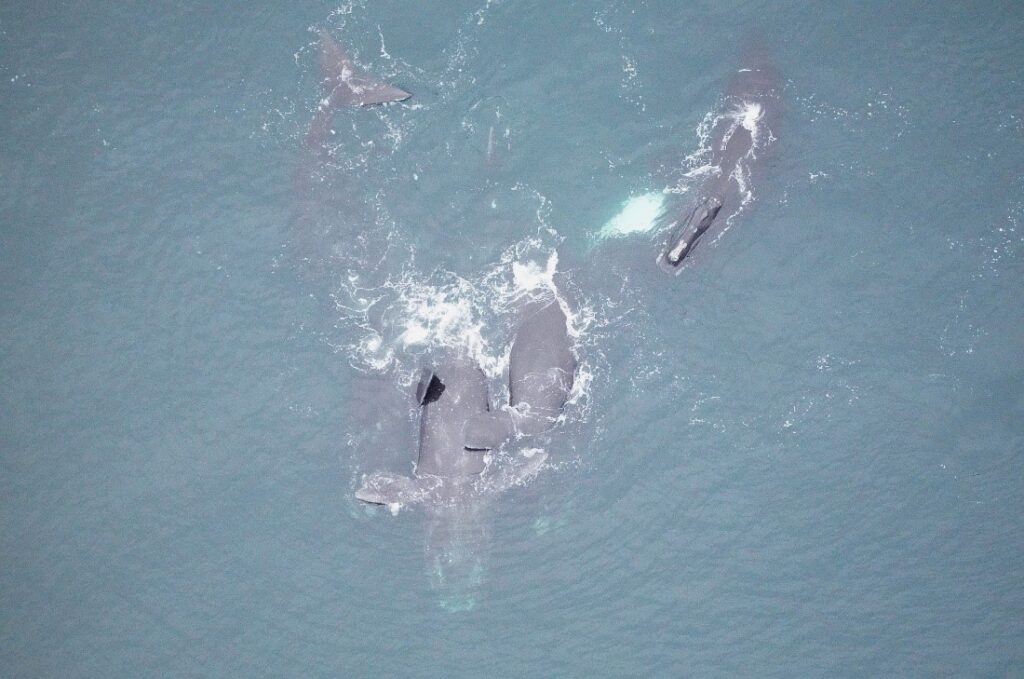 BOSTON, MASS. (May 31, 2023) – Over the course of four months, New England Aquarium scientists sighted 102 individual North Atlantic right whales during aerial survey flights, about one third of the critically endangered species' population.
**PHOTOS AVAILABLE HERE WITH CREDIT TO NEW ENGLAND AQUARIUM**
The winter/spring season marks the peak time of year for right whale sightings in southern New England waters. The Aquarium's aerial survey team flew 11 surveys this past season covering nearly 6,000 nautical miles and collecting data about the species, which has an estimated population of less than 350.
"The whales tended to be in groups and would surface quickly between dives, indicating they were feeding below the surface. In recent years, the waters south of Martha's Vineyard and Nantucket have become an increasingly important habitat for right whales," said Orla O'Brien, Associate Research Scientist in the Aquarium's Anderson Cabot Center for Ocean Life.
While scientists think right whales primarily come to southern New England to feed, aerial survey observers often see social behaviors such as surface active groups, which consist of two or more whales closely interacting at the surface. These groups can also exhibit mating behaviors. One of the largest surface active groups witnessed this season included a 15-year-old female right whale, "Bocce" (Catalog #3860), who has birthed two calves previously. Bocce's status as a calving female makes her particularly important to the recovery of the species.
For more than a decade, the New England Aquarium has conducted aerial surveys over the waters south of Martha's Vineyard and Nantucket, collecting data on all marine animals with a focus on protected species of whales and sea turtles. These surveys have been funded by the Massachusetts Clean Energy Center, the Bureau of Ocean Energy Management, NOAA, wind energy developers, and private foundations. The flights help monitor changes in animal populations, identify various animal species, and recognize trends using standardized data that has been collected over many years. Determining where right whales occur and how they are using habitats provides crucial information that can be used to better protect the critically endangered species.
While many right whales utilize southern New England waters only in the winter and spring months, in the last six years, small numbers of right whales have also been documented in that area in the summer and fall as well, as detailed in a recent study authored by New England Aquarium scientists.
"The movement of right whales in our survey area over the past four months underscores how dynamic right whales can be as they follow their prey. It is hard to predict their movements in and out of these waters," said Katherine McKenna, an Assistant Research Scientist at the Aquarium.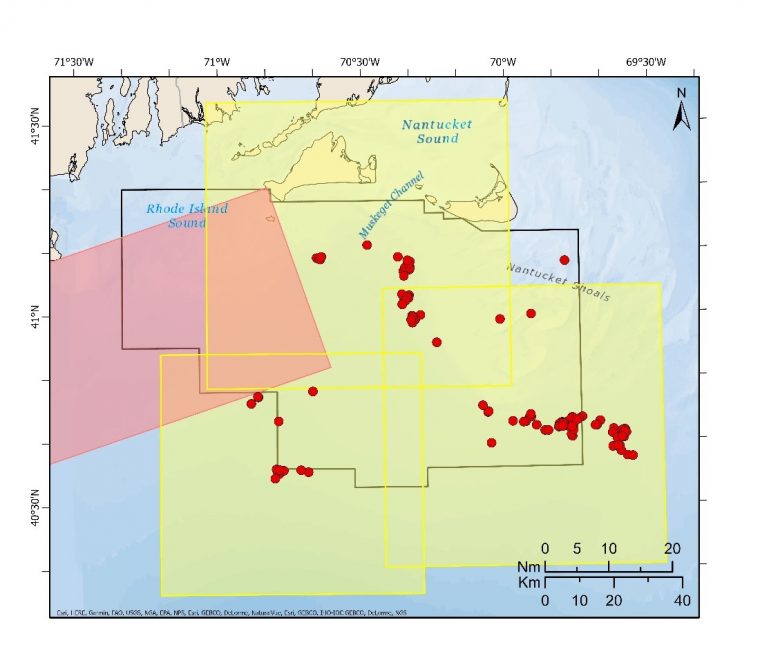 Among the 102 whales the Aquarium team photographed was "Musketeer" (Catalog #4360), who is spotted regularly during the aerial surveys. Since 2019, Musketeer has almost exclusively been documented in southern New England, including during the late summer and fall when right whales are less common in this area. Whales like Musketeer underscore the importance of conducting long-term, systematic surveys to understand species location and occurrence in a rapidly changing climate.
The sightings not only lead to a better understanding of whale behavior but also help protect them. Vessel strikes are one of the leading causes of serious injury and death for North Atlantic right whales. A sighting of three or more right whales requires NOAA to issue voluntary slow speed zones, called dynamic management areas or DMAs, for mariners that stay in effect for at least 15 days. This season, the Aquarium's surveys triggered warnings to mariners to avoid the area or slow down to 10 knots or less, to prevent collisions with whales in the area.
Right whales have been on the move in recent weeks as they travel to their primary summer feeding grounds off New England and Canada. The whales travel hundreds of miles while searching for tiny crustaceans, called copepods, which they feed on in large volumes. Warming waters in the northern Atlantic Ocean have led to shifts in right whale habitat use, with the animals adjusting where they feed off the northeast U.S. and Canada.
MEDIA CONTACT:
Pam Bechtold Snyder – psnyder@neaq.org, 617-686-5068