The Shark and Ray Touch Tank is temporarily closed for maintenance.
We apologize for the inconvenience.
Events planned on Central Wharf: Monday, April 24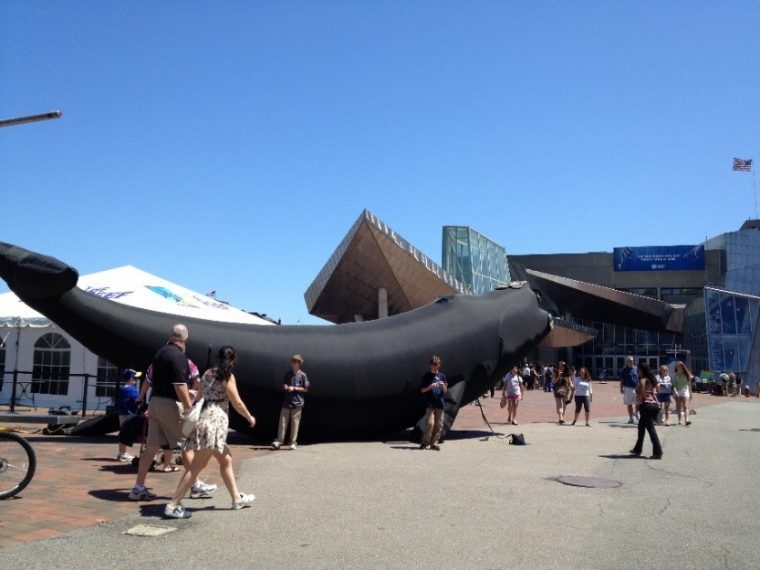 BOSTON, MASS. (April 2023) – Scientists have documented more than 100 individual North Atlantic right whales in Cape Cod Bay this season. The critically endangered whales, with an estimated population of less than 350, have been spending more time in recent years feeding in Massachusetts waters before moving north to Canada later in the spring. Dozens more whales have also been sighted during New England Aquarium aerial surveys south of Nantucket and Martha's Vineyard.
These are celebrated moments of seeing large numbers of whales near Massachusetts shores. The changes in the whales' migration and feeding patterns are thought to be related to climate change and shifts in their food sources. But the species also faces grave risks from fishing gear entanglements—with more than 80 percent of right whales having been entangled at least once—and deadly vessel strikes.
To raise awareness about the plight of right whales, the Aquarium is marking the first annual Massachusetts Right Whale Day on April 24, a day established by law just before Gov. Charlie Baker left office. A number of events are planned at the Aquarium, where scientists have been studying right whales for more than 40 years:
First Annual Massachusetts Right Whale Day at the Aquarium
Members of the media and public are invited to attend an event at 12 p.m. on April 24 in the Harbor Terrace Tent at the Aquarium featuring the Massachusetts policymakers, partner organizations, and community advocates who made this day possible. The program will feature remarks from Representative Josh Cutler (D-Duxbury), the lead sponsor of the legislation (H.3869) which created Massachusetts Right Whale Day; Senator Susan Moran (D-Falmouth); Massachusetts Climate Chief Melissa Hoffer; and New England Aquarium President and CEO Vikki N. Spruill.
Life-size right whale on display
Calvin, a 42-foot-long inflatable right whale, will be on full display on Central Wharf Plaza (weather permitting) from 11 a.m. to 2 p.m. on April 24. Visitors are invited to talk with Aquarium scientists and sign a digital petition to their member of Congress to support right whale conservation.
Take action to protect right whales
The Aquarium will offer visitors the opportunity to take action to protect right whales inside its building. All day on April 24, guests are encouraged to stop by the Blue Planet Action Center to learn more about the Aquarium's right whale research and sign the digital petition.
Ecoventure Cruise
The Aquarium and Boston Harbor City Cruises are helping protect right whales by offering the new Ecoventure Cruise, which operates at slow speeds close to shore to reduce vessel traffic near the migrating whales. The 2.5-hour tour departs from Central Wharf and will extend into mid-May. The Aquarium's ongoing Whale Watch service will begin May 16 when right whales leave Massachusetts Bay and head north to colder Canadian waters.
Expert interviews
New England Aquarium scientists are available for advance and day-of interviews. Their field work and scientific data analysis contributes to a range of work aimed at helping protect the critically endangered whales from vessel strikes and fishing gear entanglements. Researchers study how whales are impacted by stress and human activities, emerging ropeless or "on-demand" fishing technology solutions, and shifting migration patterns based on climate change.
MEDIA CONTACT:
Pam Bechtold Snyder – psnyder@neaq.org, 617-686-5068