The Shark and Ray Touch Tank is temporarily closed for maintenance.
We apologize for the inconvenience.
Female chick hatched on March 23, now weighs 6.6 lb.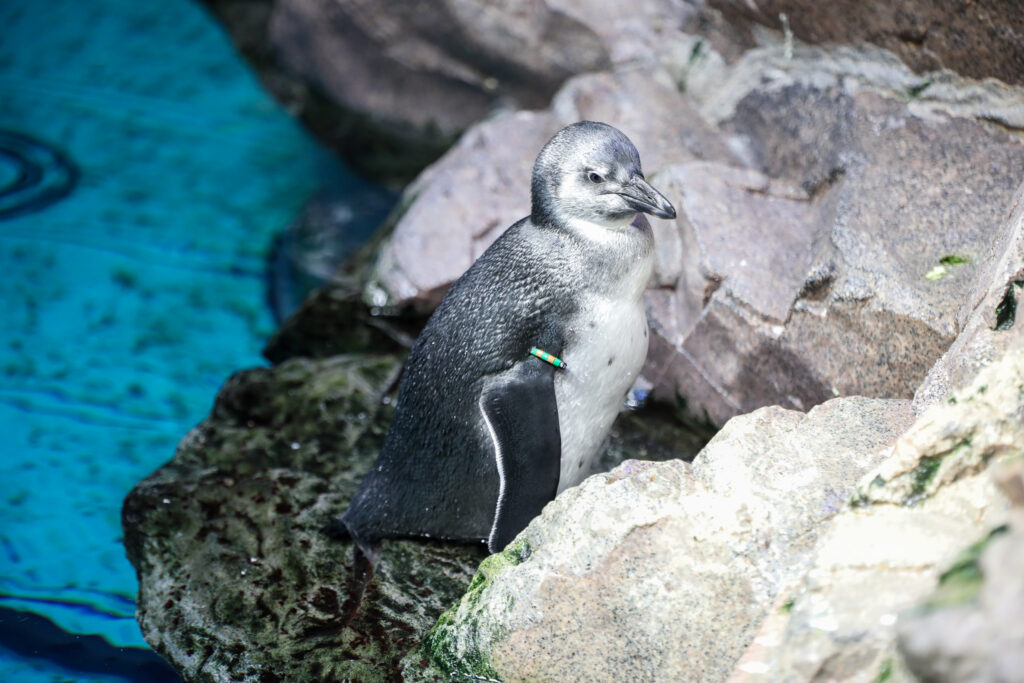 BOSTON, MASS. (June 21, 2023) – An African penguin chick who hatched at the New England Aquarium three months ago is now fully grown and on exhibit, joining the rest of the penguin colony.
*SEE PHOTOS AND VIDEO OF THE PENGUIN CHICK'S GROWTH HERE. PLEASE CREDIT NEW ENGLAND AQUARIUM*
The female chick, who staff named "Bray" for the donkey-like vocalizations made by African penguins, hatched on March 23 and has been raised by her parents and Animal Care trainers behind the scenes. She has been growing rapidly and is now 6.6 lb.—more than 42 times her hatch weight. African penguins are born with downy feathers, but around three months old they get their first waterproof feathers, enabling them to venture further from the nest and learn to swim safely.
"In the early stages, the parents provide most of the care, just as they would in the wild," said Senior Penguin Trainer Amanda Barr. "As the chick grew, we started teaching her to be hand-fed by our Animal Care team so she would be ready to join the rest of the colony on exhibit."
In preparation for moving on exhibit, the chick received a full physical exam along with a blood test to determine her sex, as well as a full physical exam. The chick is identifiable by her gray feathers and the green and brown ID bracelet on her right wing. She is now surrounded by several relatives, including great-grandmother Deco, who is the oldest penguin at the Aquarium at 41 years-old. African penguins have a life expectancy of 10 to 15 years in their native habitat along the coast of South Africa and Namibia.
African penguins are an endangered species. Due to overfishing, oil spills, and climate change, the global population has declined 97% in the last century. Without the close attention and efforts of humans and conservation organizations like the Aquarium, the species could go extinct by 2035.
The New England Aquarium participates in the African Penguin Species Survival Plan through the Association of Zoos and Aquariums, which supports field conservation efforts and a thoughtful breeding program to help promote a sustainable future for these endangered penguins. Since the 1970s, 110 African penguin chicks have hatched at the New England Aquarium. Breeding gives the penguins a chance to go through an important life stage—pair-bonding, nesting, breeding, and rearing.
"Every new African penguin chick is a huge win for this endangered population, so we're overjoyed to welcome a new chick to the colony," Barr said. "The breeding effort teaches us a little more about the factors that can help us support future births, from nest temperature to genetics, and we get to share that information and play a part in the Association of Zoos and Aquariums' efforts to save African penguins around the world."
MEDIA CONTACT:
Pam Bechtold Snyder – psnyder@neaq.org, 617-686-5068