The Shark and Ray Touch Tank is temporarily closed for maintenance.
We apologize for the inconvenience.
Aquarium premieres new film at Simons Theatre on May 26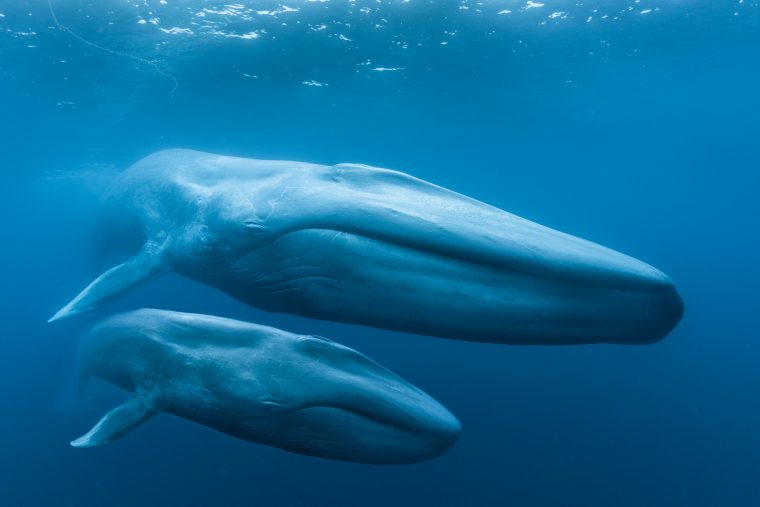 BOSTON, MASS. (May 10, 2023) – Blue Whales: Return of the Giants showcases inspirational stories about the largest mammals to inhabit the ocean as seen on two scientific missions. The new film opens May 26 on the giant screen at the New England Aquarium's Simons Theatre.
Premiering worldwide Memorial Day Weekend, the film follows two expeditions. The first mission is a high-risk endeavor to locate a population of blue whales that has not been seen in over 50 years off the Seychelles Islands in the Indian Ocean. The second journey joins Diane Gendron, the "Blue Whale Whisperer," in Mexico's Gulf of California, where she and her team listen in on whale conversations and research the impactful role that these astonishing animals have on the health of the world's oceans. Along the way, audiences will witness the feeding patterns of these marine giants, hear their unique, long-distance communication, and experience the tender bonds between mothers and their calves.
"Most people know that the blue whale is the biggest animal in the world, though a few may be surprised to learn that they are the largest animal that has ever lived, bigger than any dinosaur," explains director Hugh Pearson. "From their booming songs to their incredible feeding techniques, their awesome dimensions to their incredible beauty, and the surprising role they play in the health of our oceans, I hope the audience falls in love and will be awed by blue whales as I have been."
Blue Whales was produced by Oceanic Films, narrated by the award-winning actor Andy Serkis (Lord of the Rings, Star Wars), and scored by Academy Award-winner Steven Price (Gravity).
"This movie is incredibly uplifting and powerful," says narrator Andy Serkis. "Everyone assumes that because blue whales are the largest mammals on the planet, we should know a lot about them, but in fact that's not the case. Learning what scientists are trying to do, to understand their behaviors, has been a real education for me. The film is a wonderful marriage of storytelling, fact-giving, and entertainment."
Blue Whales: Return of the Giants will screen through Dec. 31, 2023, at the Simons Theatre, the only theatre in the Northeast where moviegoers can see the film. Tickets can be purchased in advance here.
The Matthew and Marcia Simons Theatre has 378 plush high-backed seats and offers an immersive experience for audiences to see films on a giant 80-foot-wide, 43-foot-high projection screen with razor sharp images and wrap-around digital surround sound. In keeping with the Aquarium's mission to protect the blue planet, the Simons Theatre also features carpeting made of 100 percent recycled yarn from discarded fishing nets and a digital 3D projection system that reduced the theatre's electricity usage by 40 percent.
MEDIA CONTACT:
Pam Bechtold Snyder – psnyder@neaq.org, 617-686-5068