The Shark and Ray Touch Tank is temporarily closed for maintenance.
We apologize for the inconvenience.
New boat tour will give up-close look at marine life while protecting critically endangered North Atlantic right whales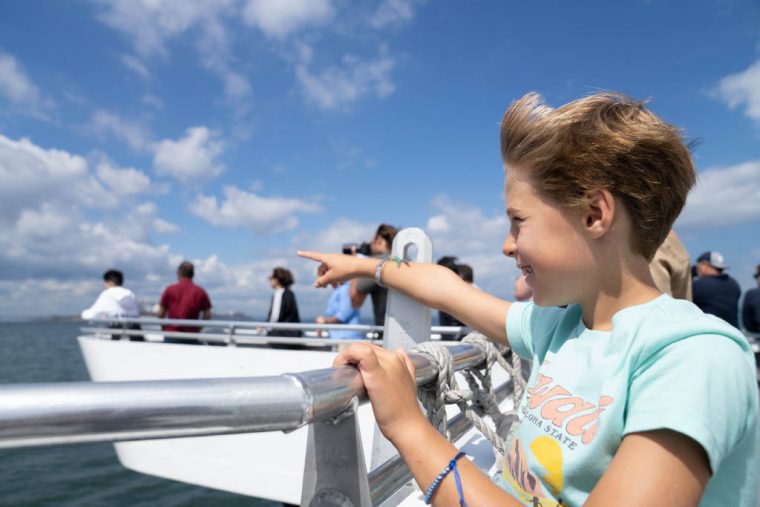 BOSTON, MASS. (March 2, 2023) – Starting in April, Boston Harbor City Cruises (BHCC), in partnership with the New England Aquarium, will offer a new cruise—the New England Aquarium Ecoventure Cruise—providing guests an up-close experience with marine life while protecting the whales who call these waters home.
North Atlantic right whales call these waters home and are increasingly sighted off Massachusetts in the springtime. Out of a shared goal to protect this critically endangered species, long-time partners BHCC and the Aquarium created the new Ecoventure boat tour that will remain in coastal habitats closer to shore and travel at slow speeds.
"As an ocean conservation organization, we are focused not only on protecting marine animals and habitats, but also with encouraging everyone who uses our ocean to do so in a responsible way. We are excited about this new tour because it puts our values into action, allowing us to continue educating people about marine wildlife while safeguarding the whales," said New England Aquarium President and CEO Vikki N. Spruill.
New England Aquarium naturalists will serve as guides onboard the Ecoventure as passengers see the marine life living off Boston's coast in the springtime, discover what these animals eat, and learn about the Massachusetts Bay ecosystem. The tours will touch on conservation success stories like the population rebound of the once nearly extinct Atlantic harbor seal and the transformational clean-up of Boston Harbor, as well as how coastal cities like Boston are preparing for the impacts of climate change.
"We would like to offer an alternative responsible and eco-friendly cruise, while still giving springtime visitors to Boston a chance to get out on the water, see wildlife, and witness both the ecological history and experience the present of this truly unique harbor," noted Bob Lawler, BHCC's General Manager and Regional Vice President.
The Ecoventure will expand the concept of eco-tourism in the City of Boston. By definition, ecotourism promotes greater understanding and appreciation for nature, local society, and culture, in a sustainable manner. Providing the opportunity to see and learn about local marine wildlife and conservation efforts has the potential to empower visitors to become ocean ambassadors and protect the blue planet.
Departing from Boston's Central Wharf, the Ecoventure Cruise will run 2.5 hours with the opportunity to see an abundance of marine life that includes harbor porpoises, dolphins, seals, and seabirds. BHCC plans to offer the tours from April 1 until mid-May, with the New England Aquarium Whale Watch launching May 16. Protections for right whales established by the U.S. government are lifted on this date because right whales have typically begun to leave Massachusetts Bay and head north to colder Canadian waters. Tickets are on sale now: New England Aquarium Ecoventure Cruise | City Cruises (cityexperiences.com)
Boston Harbor City Cruises (BHCC) is a part of City Experiences which represents Hornblower Group's expansive portfolio of water- and land-based experience companies and includes two sub-brands: City Cruises and City Ferry.  City Cruises companies operate dining, sightseeing and private events across 22 destinations in the U.S., Canada, and the UK.  City Cruises companies also operate cruises on behalf of the National Park Service and the Niagara Parks Commission and currently hold service contracts to provide ferry service to the Statue of Liberty National Monument and the Ellis Island National Museum of Immigration, Alcatraz Island and Niagara Falls.  City Ferry companies offer specialized knowledge and expertise required to transport passengers, vehicles and other cargo safely across inland and coastal waterways, serving as operator of NYC Ferry and Puerto Rico ferry system, among others.  City Experiences' portfolio of companies also offers a range of water- and land-based experiences including shore excursions, partner-offered experiences, multi-port packages, with companies including Venture Ashore, Walks and Devour Tours.  For more information visit cityexperiences.com.
The New England Aquarium is a non-profit conservation organization that has protected and cared for our ocean and marine animals for more than 50 years. Through continuous learning we provide scientific solutions and influence policies that create measurable change to help combat threats the ocean faces. We inspire action through discovery and help create engaged, resilient communities.
MEDIA CONTACT:
Pam Bechtold Snyder – psnyder@neaq.org, 617-686-5068