The Shark and Ray Touch Tank is temporarily closed for maintenance.
We apologize for the inconvenience.
BlueSwell program supports ideas ranging from underwater weather forecasting to AI-enhanced fish management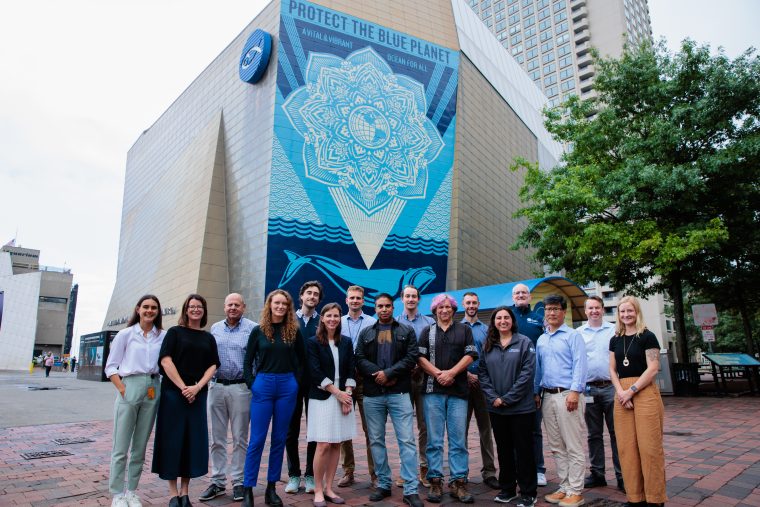 BOSTON, MASS. (Jan. 25, 2023) – Six teams of aspiring entrepreneurs will showcase their startup businesses that are charting the course for ocean conservation and progress in blue industries on Friday, February 10 in a virtual Demo Day event hosted by the New England Aquarium and SeaAhead.
Selected last September, the teams make up the third cohort of BlueSwell, a first of its kind incubator program in the Northeast focused on supporting early-stage entrepreneurship in bluetech. The BlueSwell approach is to take a whole-ocean view in fighting climate change and advancing the blue economy. We seek to instill ocean conservation from the inception of ocean tech-based startups and build the capacity of early-stage founders to convert their ocean-focused concepts into profitable and sustainable businesses. BlueSwell is a partnership between SeaAhead, Inc. and the New England Aquarium.
"This program is crucial to cultivate the next generation of entrepreneurs to tackle the issues our ocean faces and push forward innovative solutions," said John Mandelman, Vice President and Chief Scientist of the New England Aquarium's Anderson Cabot Center for Ocean Life. "These cohorts are doing impressive work, and we will continue to support them and the next groups on their journey."
The virtual Demo Day event on February 10 will include presentations from the Aquarium's Simons Theatre, followed by a live Q&A with the cohort. Those interested in attending can register here.
Presenters will be:
BlueSwell is designed to help with the creation and growth of startups that have the potential for significant impact on ocean sustainability and global resilience. "There is so much opportunity in the blue economy and in the bluetech space, but it is a new and emerging field," said Sara Remsen, Chief Executive Officer at Fathom. "There are limited opportunities and limited tools for young companies that want to break into this space, want to make connections, and want to find customers or partners. That is where BlueSwell has been valuable."
BlueSwell leverages SeaAhead's bluetech domain expertise, network, and experience in building companies and the Aquarium's five decades as a global leader in ocean conservation research and as a trusted steward to the oceans. SeaAhead brings in sector-specific experts, partners, customers and investors, and stage-specific mentors to work with each startup to hone their business models. Aquarium scientists offer their scientific and impact communication expertise to the entrepreneurs who are creating businesses that solve the ocean's most pressing problems.
"This is a culmination of months of work and strategizing for these extraordinary innovators. Seeing the end result of their time in the program is proof that support and guidance can make a difference when solving huge issues or creating unique solutions in the emerging bluetech arena," said BlueSwell Program Manager Katherine Woolford.
The program provided members of the third cohort with $50,000 of funding to get their organizations off the ground; access to leaders from industry, investment, academia, government, and NGOs; a cohort of peer companies to learn from; and mentorship and a curriculum designed to improve their leadership skills and business acumen. The teams from Cohort I and II have collectively raised over $19 million dollars since they joined the Incubator.
About New England Aquarium
The New England Aquarium is a global leader in marine science and conservation, working to safeguard ocean animals and habitats. With more than one million visitors a year, the Aquarium is one of the premier visitor attractions in Boston and a major public education resource for the region. The Aquarium's research and rescue efforts build on the institution's 50-year legacy of protecting the blue planet and advocating for a vital and vibrant ocean. In the Anderson Cabot Center for Ocean Life, scientists conduct applied marine research that informs ocean management, policy, and industry practices, and contributes to the innovation of new technologies. Through its Sea Turtle Rescue Program, the Aquarium helps protect critically endangered and threatened sea turtle populations through rescue, rehabilitation, and release efforts.
About SeaAhead
At SeaAhead, we are on a mission to launch new ocean-related ventures into scalable businesses. We are a community of entrepreneurs, technologists, mentors, and investors seeking solutions to the toughest challenges facing the ocean. Our partnerships allow us to break down barriers to growth and support startups with expertise, resources, and connections across a variety of bluetech sectors – from offshore renewable energy to resilient waterfronts, clean shipping, fisheries and aquaculture. We drive innovation. Our innovation challenges inspire new ideas, the BlueSwell Incubator builds companies, and the Blue Angels facilitate bluetech investment. Working alongside cutting-edge ocean entrepreneurs gives us unique market insight and deal flow, which has led us to launch SeaAhead Ventures, a new fund in formation dedicated to investing in emerging ocean technology.
MEDIA CONTACT:
Pam Bechtold Snyder – psnyder@neaq.org, 617-686-5068