The Shark and Ray Touch Tank is temporarily closed for maintenance.
We apologize for the inconvenience.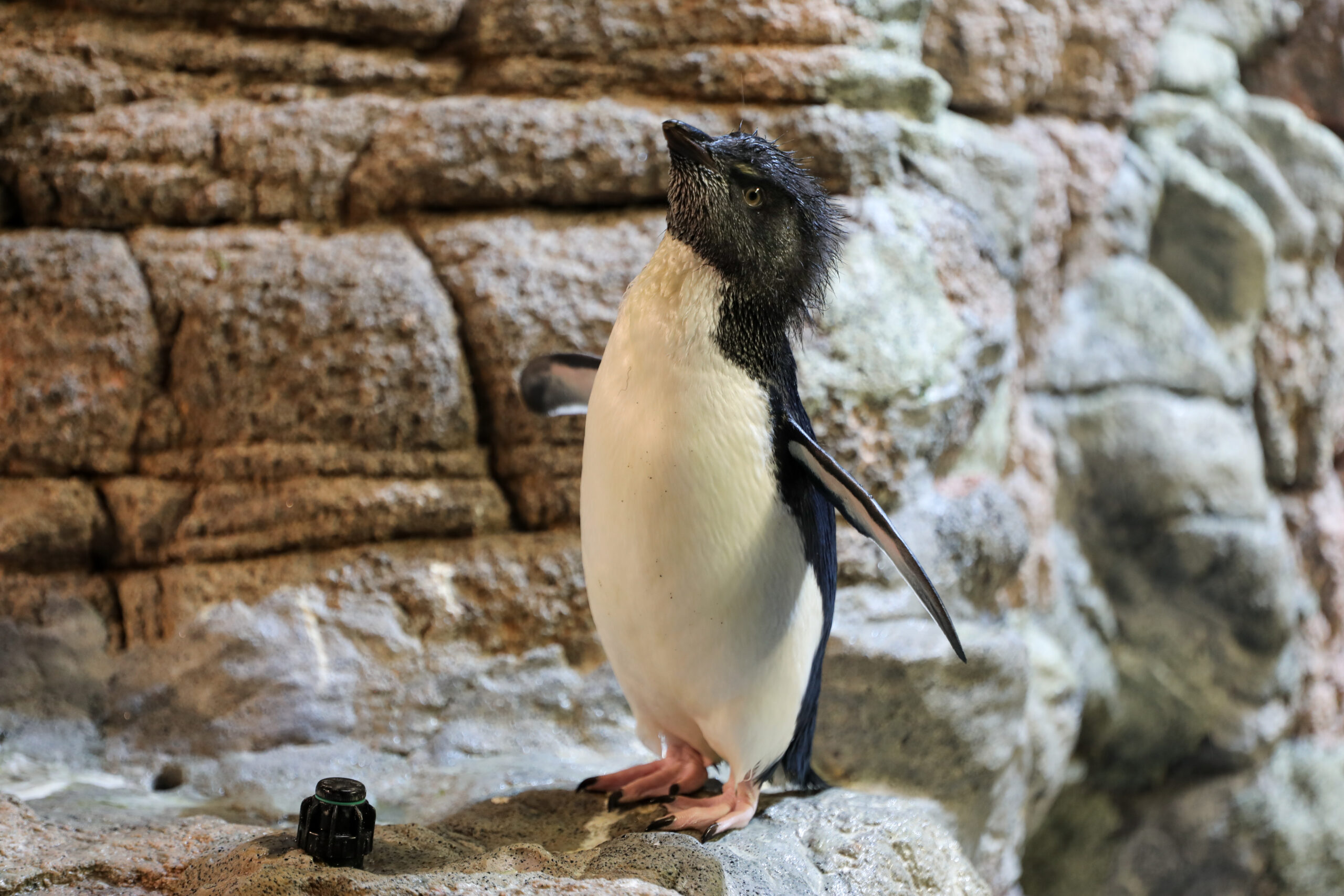 BOSTON, MASS. (Sept. 6, 2023) – A southern rockhopper penguin chick is now on exhibit for the public to view at the New England Aquarium after growing behind the scenes for the past two months.
*PHOTOS AND VIDEO AVAILABLE HERE WITH CREDIT TO NEW ENGLAND AQUARIUM*
The female chick hatched to parents Pebble II and Fuego II on June 23. Aquarium staff have been raising it off exhibit as the bird learned to hand feed and socialize with other resident rockhopper penguins. Penguins typically receive their waterproof feathers between 75 and 100 days-old, which enables them to learn to swim safely. The rockhopper chick received a full medical examination last week and was given a clean bill of health, allowing her to join the rest of the colony of 13 rockhopper penguins on exhibit.
"While 150 successful penguin chicks have been hatched and raised at the New England Aquarium, this is only our tenth southern rockhopper penguin chick. So, we are ecstatic to have her join our colony and share her with our visitors," said Assistant Curator of Penguins Eric Fox. "I could not be prouder of our team who put their hearts and souls into hand-raising this chick from day one."
The chick required medical intervention when it began to hatch back in June and struggled to break through its shell. The Aquarium's Animal Care team gave it a chance to fully hatch on her own but decided to intervene to ensure the best chance of survival. Staff then provided round-the-clock care and monitored the bird for several days.
Southern rockhopper penguins are considered a vulnerable or threatened species. Over the past three to four decades, their numbers have dropped by about 35%, with climate change and the associated warming of the ocean surrounding their habitats cited as a major factor. Wild colonies also face threats including depletion and overfishing of their food source and pollution from incidents such as oil spills.
The Aquarium is planning to reveal the new chick's name in the coming weeks. By giving penguins names linked to natural history and conservation, the Aquarium is able to connect with and educate guests about the birds who are ambassadors for their species.
MEDIA CONTACT: Pam Bechtold Snyder, psnyder@neaq.org; 617-686-5068