The Shark and Ray Touch Tank is temporarily closed for maintenance.
We apologize for the inconvenience.
The giant Pacific octopus is the largest species of octopus in the world. They are intelligent, can change color, and have excellent eyesight. They are also very strong. Using their eight arms, they can move more than 700 pounds!
Animal Facts
Size
Up to 20 feet from tip to tip of outstretched arm, and up to 150 pounds
Diet
Fishes, shrimps, crabs, scallops, clams, and other shellfishes
Range
Northern Pacific Ocean, from Alaska through California
FAQ
Are Octopuses as Smart as People Say?
Yes! The Aquarium provides a puzzle box to keep the giant Pacific octopus in our exhibit mentally stimulated. There are even stories of octopuses at some aquariums escaping from their tanks or exhibits!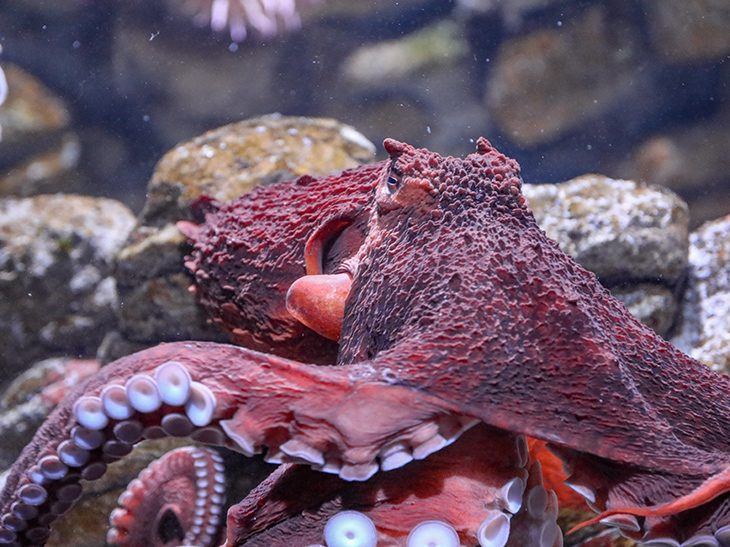 CONSERVATION
Protecting Octopuses' Coastal Homes
There are many ways humans can share healthy coastal areas with species like the giant Pacific octopus. One way is to establish underwater reserves or Marine Protected Areas (MPAs), like the Olympic Coast National Marine Sanctuary. This 2,400 square mile sanctuary in Washington State was established to preserve one of the most productive, healthy ecosystems in North America.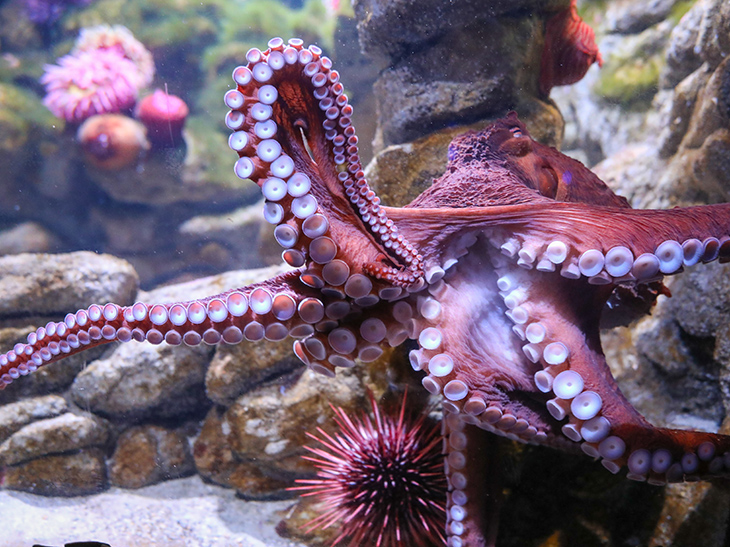 FAQ
Where is the Octopus?
Despite its size, visitors sometimes have difficulty finding the octopus when they first approach the Olympic Coast exhibit. This is because the octopus is a master of camouflage and often prefers to curl up in a corner during the day. The tank's dim lighting and nooks and crannies create an ideal atmosphere for the octopus.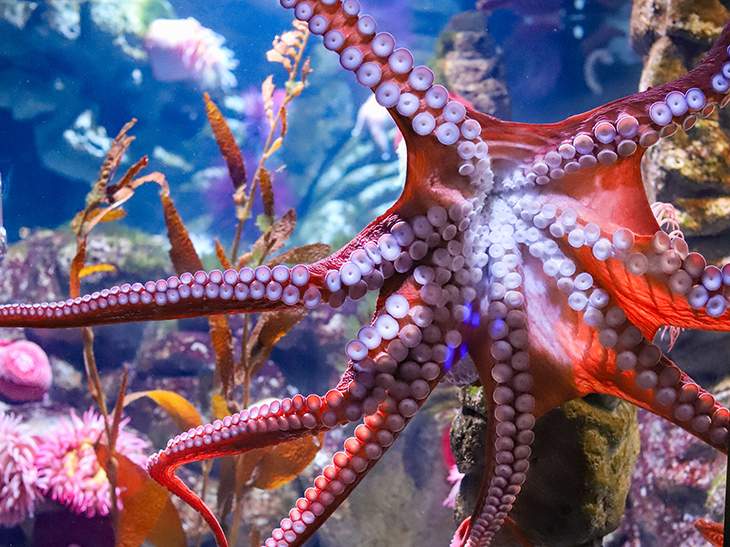 Donate to Support Ocean Conservation
At the New England Aquarium, ocean conservation is at the center of everything we do. And with your help, we can tackle pressing threats and their effects on ocean animals and habitats.
Ask the Expert
Learn more about the giant Pacific octopus with aquarist Jordan.
4 VIDEOS
Total View time 2:7
What is a giant Pacific octopus?
00:28
What are some giant Pacific octopus fun facts?
00:49
Is it octopuses or octopi?
00:21
Are giant Pacific octopuses affected by climate change?
00:29