The Shark and Ray Touch Tank is temporarily closed for maintenance.
We apologize for the inconvenience.
Support the New England Aquarium's mission of making a vital and vibrant ocean possible—while giving employees and clients the opportunity to experience all the Aquarium has to offer.
Corporate Sponsorship and Support
Benefit from high-impact visibility with millions of visitors to the Aquarium and Boston's waterfront. In addition, funding research and conservation programs demonstrates a commitment to the environment. Whether your goal is strategic philanthropy or marketing, we can create a customized program that is aligned with your mission.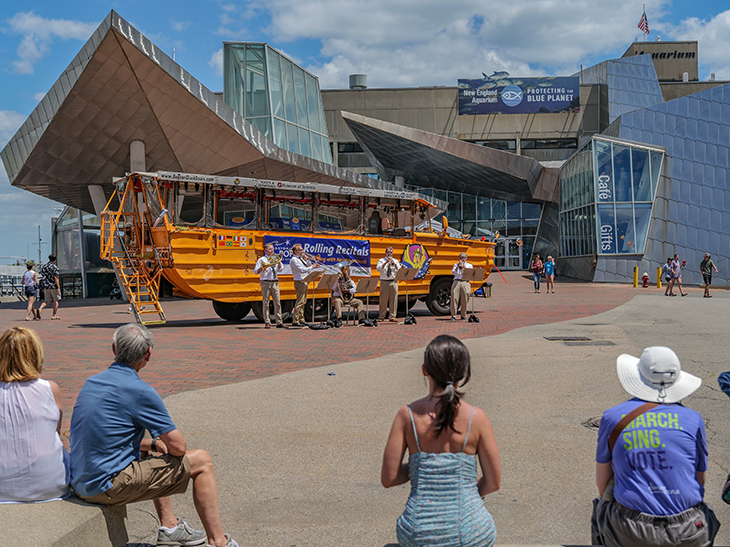 Corporate Member Benefits
The Corporate Membership program provides a generous package of benefits—including passes to the Aquarium for employees or clients, tickets to the Simons Theatre, behind-the-scenes tours, free or discounted Aquarium venue rentals, executive family memberships, and more. The Aquarium's corporate members represent organizations from all over greater Boston and beyond!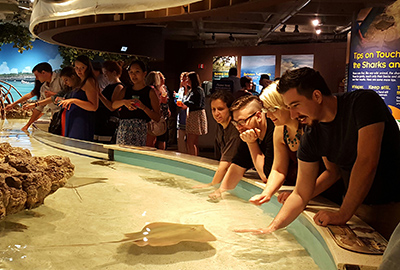 Corporate Member Levels
To discuss the level of membership that is appropriate for your organization or for more information on the Aquarium Corporate Partnership Program, please email us at CorporatePartners@neaq.org.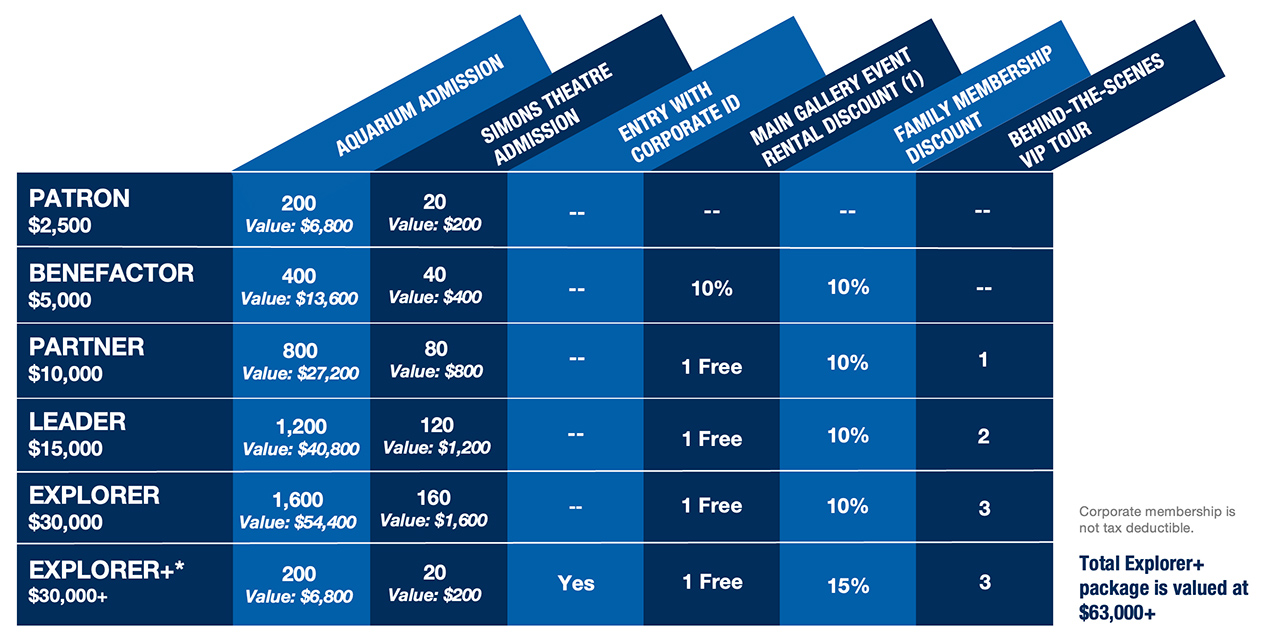 Corporate Sponsors
The New England Aquarium proudly recognizes and thanks all our corporate sponsors. In particular, we are pleased to recognize our corporate leadership sponsors.
Corporate Leadership Sponsors: $50,000+

Corporate Sponsors and Supporters
Alexion Pharmaceuticals • Arthur J. Gallagher Risk Management Services, Inc. • Biogen Foundation • Boston Harbor Hotel • Cell Signaling Technologies • C & W Services • Citizens Bank • Dell • ENGIE • Event Network • John Hancock Financial Services • Liberty Mutual Insurance • MEDITECH • Morgan Stanley • Natixis Global Asset Management • New England Biolabs Foundation • Patina Restaurant Group • M&T Bank Corporation • Sappi Fine Paper North America • The TJX Companies, Inc. • Vertex Pharmaceuticals
Corporate Members
Thank you to our corporate members for their support.
Explorers: Dell • Harvard Outings & Innings* • Irving Oil • Massachusetts General Hospital • Massachusetts Institute of Technology* • Morgan Stanley • New Balance* • The TJX Companies, Inc.
Leaders: Berklee College of Music* • Boston College • Brigham & Women's Hospital* • Digital Federal Credit Union • NED Management L.P. • State Street Corporation • Takeda Pharmaceuticals • The MathWorks, Inc.
Partners: Analog Devices, Inc. • Cabot Corporation* • C&W Services • Lowell General Hospital • Simmons College* • University of Massachusetts
Benefactors: Acadian Asset Management • Alexion Pharmaceuticals • Arthur J. Gallagher Risk Management Services, Inc. • Bose Corporation • Boston Harbor Hotel • Brandeis University • BrightSphere Investment Group • Cambridge Savings Bank* • Charles River Laboratories, Inc.* • Chubb Group of Insurance Companies* • Copyright Clearance Center • Everett Public Libraries • Exelon Generation • Liberty Mutual Insurance* • McKinsey & Company • Nutter McClennen & Fish LLP • Parent Talk • Parker Hannifin Corporation • People's United Bank • Portsmouth Naval Shipyard • Spaulding Rehabilitation Hospital • USPS Social & Recreation Committee* • USW Local 9360 • Vertex Pharmaceuticals Incorporated • Veterinary Neurology and Pain Management • Wentworth Institute of Technology
Patrons: Addgene • AEW Capital Management, L.P. • Allegro Microsystems, LLC • Anchor Capital Advisors, Inc. • BAMSI • Barings* • Ben & Jerry's • Bethesda Lodge #30, I.O.O.F. • Bloomberg Philanthropies • Boston Children's Hospital • Boston Duck Tours • Boston Police Patrolmen's Association, Inc. • Brigham & Women's Faulkner Hospital • Cambridge Trust Company • CDM Smith • CGI Information Systems • Christian Books • Citizens Bank of Massachusetts • Dana Farber Cancer Institute – Jimmy Fund Clinic • Domio • Dunkin Brands* • EMCOR Services Northeast – CommAir/BALCO • Gorton's Seafood • Harvard Pilgrim Health Care Inc. • Hollingsworth & Vose Company* • Houghton Chemical Corporation* • International Data Group • John Hancock Financial Services Inc.* • KPMG LLP* • M.O.S.E.S. • Massachusetts Port Authority • MassaProducts Corporation • MassGeneral Hospital for Children • Momenta Pharmaceuticals, Inc. • National Grid* • Natixis Global Asset Management • NEPC • North Coast Seafoods Corporation • Party Rental Ltd. • Putnam Investments • Residences at the Intercontinental Boston • Sappi Fine Paper North America • Schneider Electric • Senior Aerospace-Metal Bellows Division • Sensitech Inc. • South Shore American Postal Workers Union* • Taunton-South Shore Foundation* • The Baupost Group L.L.C. • The Hopedale Foundation* • The Timberland Company • Tufts Health Plan • Twin Rivers Technologies • U.S. Postal Service Processing and Distribution Center • Vanasse Hangen Brustlin, Inc. • Veolia • Vilms Consulting • Vista Higher Learning • Wolverine Worldwide*
*Corporate Members who have supported the New England Aquarium 20 years or more.
List current as of November 2022.
Foundations and Government

Protecting the Blue Planet
The New England Aquarium is a nonprofit research and conservation organization that has protected and cared for our ocean and marine animals for more than 50 years.