The Shark and Ray Touch Tank is temporarily closed for maintenance.
We apologize for the inconvenience.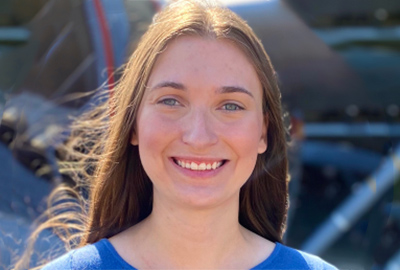 Katherine McKenna
Assistant Research Scientist
Spatial Ecology, Mapping, and Assessment, Anderson Cabot Center for Ocean Life
Education
BA, Biology, College of the Holy Cross, 2015
About
Katherine McKenna is a research assistant with the Spatial Ecology, Mapping, and Assessment Program (EcoMap) at the Anderson Cabot Center. She is a member of the aerial survey team and participates in surveys of wind energy development areas and the Northeast Canyons and Seamounts Marine National Monument. She also assists with photo and data analysis, report writing, and research projects.
Prior to joining the Aquarium team, she worked as a naturalist on whale watching boats in Massachusetts and has gained over six years of experience with marine animal rescue, research, necropsy, and rehabilitation through positions at the International Fund for Animal Welfare's Marine Mammal Rescue Program and the New England Aquarium's Rescue and Rehabilitation Department.
Featured Research
Aquarium Affiliate Author(s): Orla O'Brien, Dan Pendleton, Ph.D., Laura Ganley, Ph.D., Katherine McKenna, Scott Kraus, PhD, Jessica V. Redfern, PhD

Published July 20, 2022
Anderson Cabot Center for Ocean Life
Through pioneering conservation research and strategic partnerships, our team of 40 scientists works to combat the unprecedented impacts on the ocean from climate change and other human activities.