The Shark and Ray Touch Tank is temporarily closed for maintenance.
We apologize for the inconvenience.
Legislation focuses on coastal resiliency, workforce development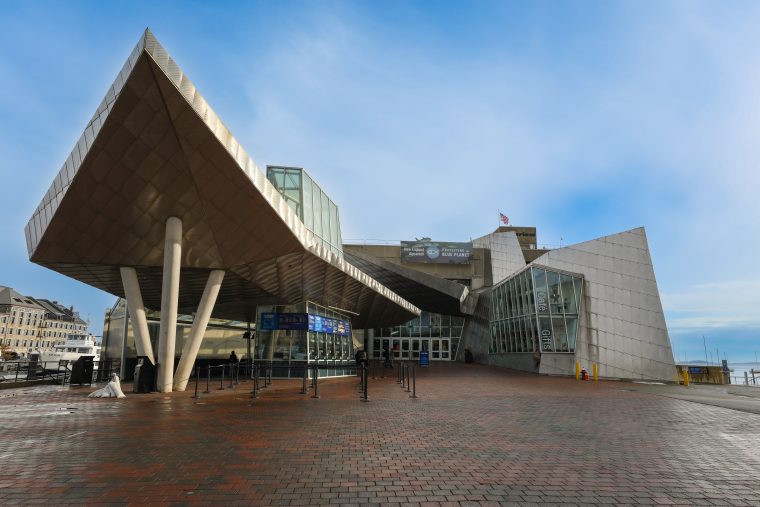 BOSTON, MASS. (Feb. 16, 2023) – As Massachusetts' ocean-based "blue economy" expands rapidly, the New England Aquarium is filing and supporting legislation to address wide-ranging environmental and economic issues. State lawmakers who sponsored the legislation joined Aquarium leadership today at a press conference announcing the bills.
The legislation filed by the Aquarium in conjunction with Senator Susan Moran, Representative Jessica Giannino, and Representative Kathy LaNatra focuses on coastal resiliency, promoting nature-based climate solutions, and expanding blue technology. The bills would also establish programs to fund education and job training for bluetech careers and create a circular economy business grant program to allow for businesses to become more sustainable.
"Massachusetts' blue economy is booming and conservation and economic development are not mutually exclusive. Focusing on impacts to the ocean has never been more critical," said James Sutherland, the Aquarium's Associate Vice President of Public Policy and Advocacy. "We have a stake in this work as a leading conservation organization in Boston, so we are stepping up to initiate and advocate for legislation to address the myriad environmental and climate change issues facing our ocean and our blue economy."
Between 2009–2019, the state's ocean economy grew by 38 percent and today employs more than 100,000 individuals across 6,000 businesses and is valued at $8.2 billion. The state's "blue economy" is projected to grow even further with the development of offshore wind, innovations in aquaculture, coastal resiliency projects, and more. In order to ensure a responsible use of the ocean, this work must align both economic development and conservation goals—protecting marine species and habitats while allowing Massachusetts to benefit from this growing sector.
In this recent legislative session, the Aquarium also supported bills to address plastic pollution in the ocean, the responsible development of offshore wind, and funding for ropeless/on-demand fishing technology to reduce entanglements for North Atlantic right whales and sea turtles, species that Aquarium scientists have researched for decades.
"We come to this work very naturally," said Vikki N. Spruill, the Aquarium's President and CEO. "Our scientists are in the field seeing the impacts of climate change, the rapidly warming Gulf of Maine, and human impacts to critically endangered whales and other marine animals. We also sit on Central Wharf and experience more storm surges and rising tides than ever before signaling the need for a comprehensive resiliency plan of action. Sharing the expertise of our scientists and policy staff is essential to making meaningful legislation for Massachusetts."
Sponsors for the various state legislative bills supported by the New England Aquarium include Sen. Brendan P. Crighton, D-Lynn; Rep. Josh S. Cutler, D-Pembroke; Sen. Julian Cyr, D-Truro; Rep. Dylan A. Fernandes, D-Falmouth; Rep. Ann-Margaret Ferrante, D-Gloucester; Rep. Jessica Giannino, D-Revere; Sen. Anne Gobi, D-Spencer; Rep. Kathy LaNatra, D-Kingston; and Sen. Susan L. Moran, D-Falmouth.
"Our ability to understand and address climate challenges, promote the creation of thousands of blue economy jobs, and facilitate international competitiveness all rely on understanding and harnessing the power of the ocean," said Sen. Moran, who is sponsoring several of the bills. "Not only will these bills contribute to the climate resiliency of our coastal communities, but they will facilitate the next wave of sustainable economic growth for future generations."
Rep. Kathy LaNatra, who is also sponsoring several bills, added, "I am very excited to be working with the New England Aquarium and all of these amazing partners to sponsor legislation that would move Massachusetts towards a circular economy. Our current waste model is unsustainable and extremely harmful. The transition to a circular economy would reduce waste, significantly reduce harmful greenhouse gas emissions, and create a model that will sustain generations to come."
"Ocean acidification and nutrient pollution are threatening marine life and the livelihoods of those who depend on healthy ocean ecosystems to make a living—from our fishing communities to our tourist beach destinations," said Rep. Dylan Fernandes, a sponsor of the ocean acidification bill. "People have a right to unpolluted, clean water. Our Blue Communities and Coastal and Environmental Acidification bills provide a responsible path to protecting water quality and preserving marine ecosystems."
Rep. Jessica Giannino, who is sponsoring a bill to promote carbon sequestration, said, "This legislation is a vital part of the New England Aquarium's Blue Economy legislative package. The Aquarium is a great partner and resource for our community, and I am so happy to collaborate with them. My district is surrounded by these ecosystems, which are areas of critical environmental concern; a barrier beach and marshland that are integral to my community's aesthetics, economics, and recreation, making this a very personal priority."
Alison Rogers Cove is founder of USEFULL, part of the Aquarium's work with SeaAhead and the BlueSwell incubator program to launch ocean-focused business startups. "Boston is currently known as a hub for education and biotech. With the help of this legislation, it will soon be known for strong circular and blue economies," Cove said.
On the federal level, the Aquarium is also working with Senator Edward Markey and Representative Bill Keating to get bipartisan support for the Sea Turtle Rescue Assistance Act.
MEDIA CONTACT:
Pam Bechtold Snyder – psnyder@neaq.org, 617-686-5068