The Shark and Ray Touch Tank is temporarily closed for maintenance.
We apologize for the inconvenience.
Guests encouraged to purchase tickets in advance as tickets do sell out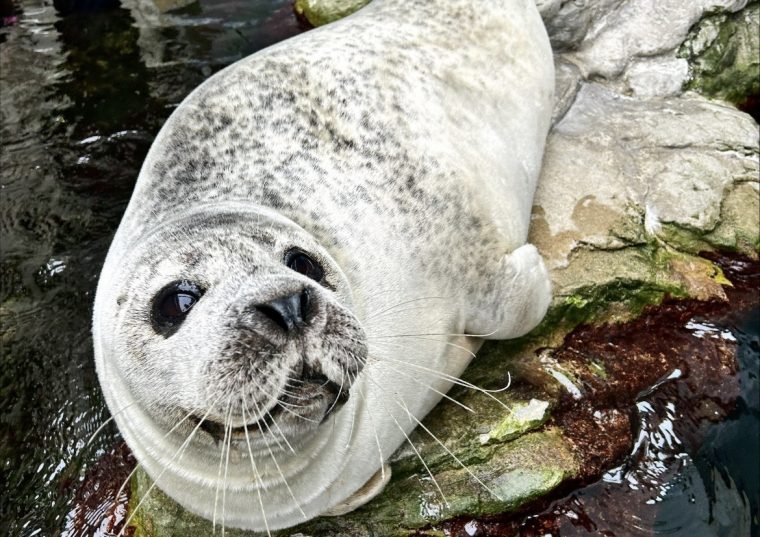 BOSTON, MASS. (April 2023) – The New England Aquarium is encouraging guests to plan ahead as April school vacation week approaches, with the exciting return of behind-the-scenes animal encounters, Boston Duck Tours, and the new Ecoventure Cruise.
The Aquarium will be open with extended hours the week of April 17 from 9 a.m. to 6 p.m. daily. Guests are strongly encouraged to purchase tickets online in advance at neaq.org, as timed ticket slots may sell out. Highlights for the week include:
Behind-the-scenes with the harbor seals
The Aquarium is offering special encounters with its resident Atlantic harbor seals for an additional fee. The daily programs provide guests with an exclusive inside-the-exhibit experience and the opportunity to interact with and learn more about these marine mammals. Guests can also register for an art-making session. More information and pricing here.
Seadragon exhibit updates
In a first, baby seadragons hatched at the Aquarium last year. Now, guests can stop by the second floor to see adult seadragons in their newly refurbished exhibit and watch footage of the juveniles living behind the scenes as they grow.
Daily animal presentations and feedings
The Aquarium's marine mammals team is offering daily presentations at 12 p.m. and 2 p.m. with the sea lions in the New Balance Foundation Marine Mammal Center and at 11:30 a.m. and 3:30 p.m. in the Atlantic harbor seal exhibit.
Guests can also see the penguins being fed at 9 a.m. and 2:30 p.m. and Giant Ocean Tank feedings at 10 a.m. and 2 p.m.
Ecoventure Cruise
The New England Aquarium Ecoventure Cruise in partnership with Boston Harbor City Cruises provides guests an up-close experience with marine life. The tours stay close to shore and travel at slow speeds, helping protect the critically endangered North Atlantic right whales who call these waters home. Departing from Central Wharf, the tours run 2.5 hours with the opportunity to see an abundance of marine life that includes harbor porpoises, dolphins, seals, and seabirds.
Boston Duck Tours
Boston Duck Tours, the city's most popular sightseeing tour, returns in April with a stop in front of the Aquarium. The tours depart hourly from Central Wharf. Duck Tours guests receive $4 off New England Aquarium tickets.
Ben & Jerry's kiosk
The beloved ice cream maker returns to Central Wharf Plaza this spring. The Ben & Jerry's kiosk outside the Aquarium is serving up favorite flavors on Saturdays and Sundays in April and May from noon to 5:30 p.m.
Simons Theatre films
The Aquarium's Simons Theatre is showing the new giant screen 3D documentary Secrets of the Sea. The film explores the astonishing world of 70 marine species and the fascinating ways in which they interact with each other and their environment, from pygmy seahorses to giant manta rays.
Other films playing include Cephalopods: Aliens of the Deep, Incredible Predators, and Superpower Dogs, with runtimes of 45 minutes. Screening times vary. Concessions will also be open all week offering popcorn, candy, chips, and beverages.
The Aquarium gift shop will have extended hours of 9 a.m. to 6 p.m. during the week of April 17, and the Harbor View Café will be open 10 a.m. to 4 p.m. For more information and to purchase tickets, visit neaq.org or call 617-973-5200.
MEDIA CONTACT:
Pam Bechtold Snyder – psnyder@neaq.org, 617-686-5068