The Shark and Ray Touch Tank is temporarily closed for maintenance.
We apologize for the inconvenience.
Survey comes ahead of scientists' congressional briefing May 11 on Northeast Canyons and Seamounts Marine National Monument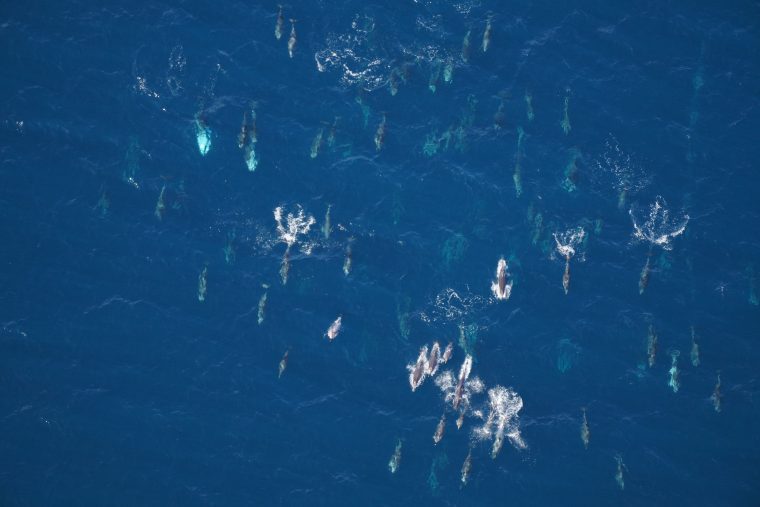 BOSTON, MASS. (May 8, 2023) – New England Aquarium scientists are sharing breathtaking aerial survey images from the first and only marine national monument in the U.S. Atlantic Ocean, days ahead of a congressional hearing focused on ocean protections.
**PHOTOS AVAILABLE HERE WITH CREDIT TO NEW ENGLAND AQUARIUM**
The scientists flew above Northeast Canyons and Seamounts Marine National Monument on April 21, capturing the biodiversity hotspot 150 miles off the coast of Cape Cod. The area features three underwater canyons deeper than the Grand Canyon and four seamounts (extinct volcanoes) that rise higher than any mountain east of the Rockies. During the flight, Aquarium researchers sighted two endangered sperm whales, two fin whales, and hundreds of dolphins. They also documented dozens of ocean sunfish and several basking sharks during the five-hour flight, as well as two True's beaked whales—an infrequently seen species.
"We had a brief and lucky sighting of two True's beaked whales at the base of Gilbert Canyon. These enigmatic deep divers spend relatively little time at the surface, and after we circled just twice to identify them, they disappeared," said Orla O'Brien, an associate research scientist in the Aquarium's Anderson Cabot Center for Ocean Life.
Aquarium researchers have conducted aerial surveys over the 5,000-square-mile Monument since 2016 when President Obama designated the area the first marine national monument in the U.S. Atlantic Ocean. These ongoing surveys continue to document the monument's high marine mammal biodiversity and environmental significance. Much of the ocean life in the Monument takes refuge far below the surface, where dozens of species of coral create a foundation for vibrant, deep-sea ecosystems.
The New England Aquarium and Mystic Aquarium played a crucial role in the designation of the Monument, providing the strong scientific evidence of the importance of this diverse habitat that offers food and shelter to sea birds and other endangered and threatened marine species. On Thursday, May 11, the New England Aquarium's Dr. Jessica Redfern, Associate Vice President of Ocean Conservation Science at the New England Aquarium, will brief Congress on the importance of protections and funding for ocean spaces like the Monument.
Scientists have called for 30 percent of the planet's ocean to be protected by 2030 to stem biodiversity loss and build resilience against climate change. President Biden reaffirmed this commitment during his first month in office with the launch of America the Beautiful, and further expanded upon this goal with the release of the administration's much-anticipated Ocean Climate Action Plan.
"To achieve the goal of conserving 30 percent of America's lands and water by 2030, it's imperative that strong protections remain in place for areas like Northeast Canyons and Seamounts Marine National Monument. Protected waters are an important part of developing strategies for responsible ocean use and can help us understand and mitigate the impacts of climate change," Dr. Redfern said.
MEDIA CONTACT:
Pam Bechtold Snyder – psnyder@neaq.org, 617-686-5068