The Shark and Ray Touch Tank is temporarily closed for maintenance.
We apologize for the inconvenience.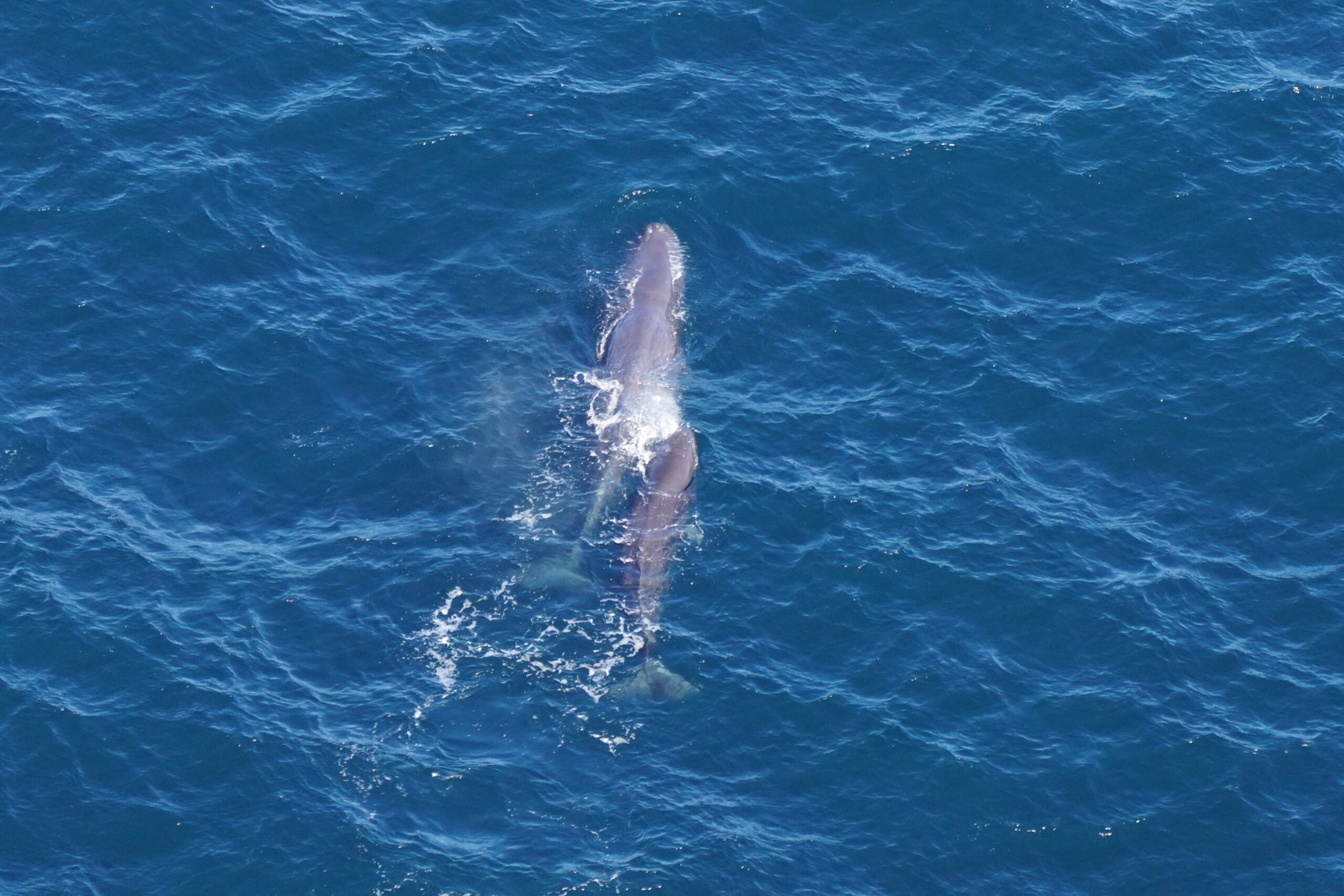 BOSTON, MASS. (Oct. 26, 2023) – During a recent aerial survey over the Northeast Canyons and Seamounts Marine National Monument, New England Aquarium scientists saw an endangered sperm whale adult and calf, a first for the survey team in six years of flights to the Monument, and a notable sighting among 324 marine animals spotted during the five-hour flight. The 5,000-square-mile Monument, located about 130 miles east/southeast of Cape Cod, is the only marine national monument in the U.S. Atlantic Ocean.
DROPBOX FOLDER OF IMAGES AVAILABLE HERE WITH CREDIT TO NEW ENGLAND AQUARIUM
"As scientists who have flown aerial surveys for years, we never take for granted how exciting it is to see whales, sharks, and dolphins in the wild, particularly an endangered sperm whale calf. It's a reminder of the rich biodiversity of animals that use the Monument," said Sharon Hsu, a research technician with the Anderson Cabot Center for Ocean Life at the New England Aquarium.
Among the animals the team spotted on Oct. 19 were: 117 bottlenose dolphins, four fin whales, 27 Risso's dolphins, two humpback whales, 15 ocean sunfish, 150 common dolphins, one True's beaked whale, four unidentified beaked whales, and three sperm whales—including the adult and calf pair. Sperm whales exhibit maternal-like interactions, meaning that adults other than the mother may occasionally take care of calves, including nursing them, so the adult whale spotted may not have been the calf's mother.
In 2016, President Obama designated the Monument as the first marine national monument in the U.S. Atlantic Ocean. The area encompasses three underwater canyons deeper than the Grand Canyon and four seamounts, or extinct volcanoes, that rise higher than any mountain east of the Rockies. The New England Aquarium played a crucial role in the designation of the Monument, providing the strong scientific evidence of the importance of this diverse habitat that offers food and shelter to many endangered and threatened marine species and where dozens of species of coral create deep-sea ecosystems. Since 2016, the Aquarium has flown 16 aerial surveys over the Monument, documenting remarkable marine mammal biodiversity.
The Aquarium is submitting public comments this week to the U.S. Fish and Wildlife Service (USFWS) and the National Oceanic and Atmospheric Administration (NOAA) as the agencies work to draft a management plan for the Monument. Among its recommendations, the Aquarium advises that the agencies ensure sustainable sources of funding for public education and outreach about the Monument; monitor and manage various activities in the Monument including shipping, recreational fishing, as well as the impacts of climate change; and build upon existing scientific data with more comprehensive research to expand our understanding of the Monument and inform effective management of its resources.
"As a global leader in applied marine research and conservation practice, and a longtime research hub for Atlantic marine species, the Aquarium has been deeply involved with studying the Monument region and its species for many years," the Aquarium's letter states. "We have observed a variety of species through aerial surveys in this area (e.g., blue whales, sperm whales, whale sharks, Chilean devil rays), and the Monument contains some of the highest marine mammal diversity along the entire east coast. We will continue to advocate for protecting this region and look forward to supporting USFWS and NOAA as the Plan takes shape."
MEDIA CONTACT: Pam Bechtold Snyder, psnyder@neaq.org; 617-686-5068