After Innovative Treatment, this African Penguin is Thriving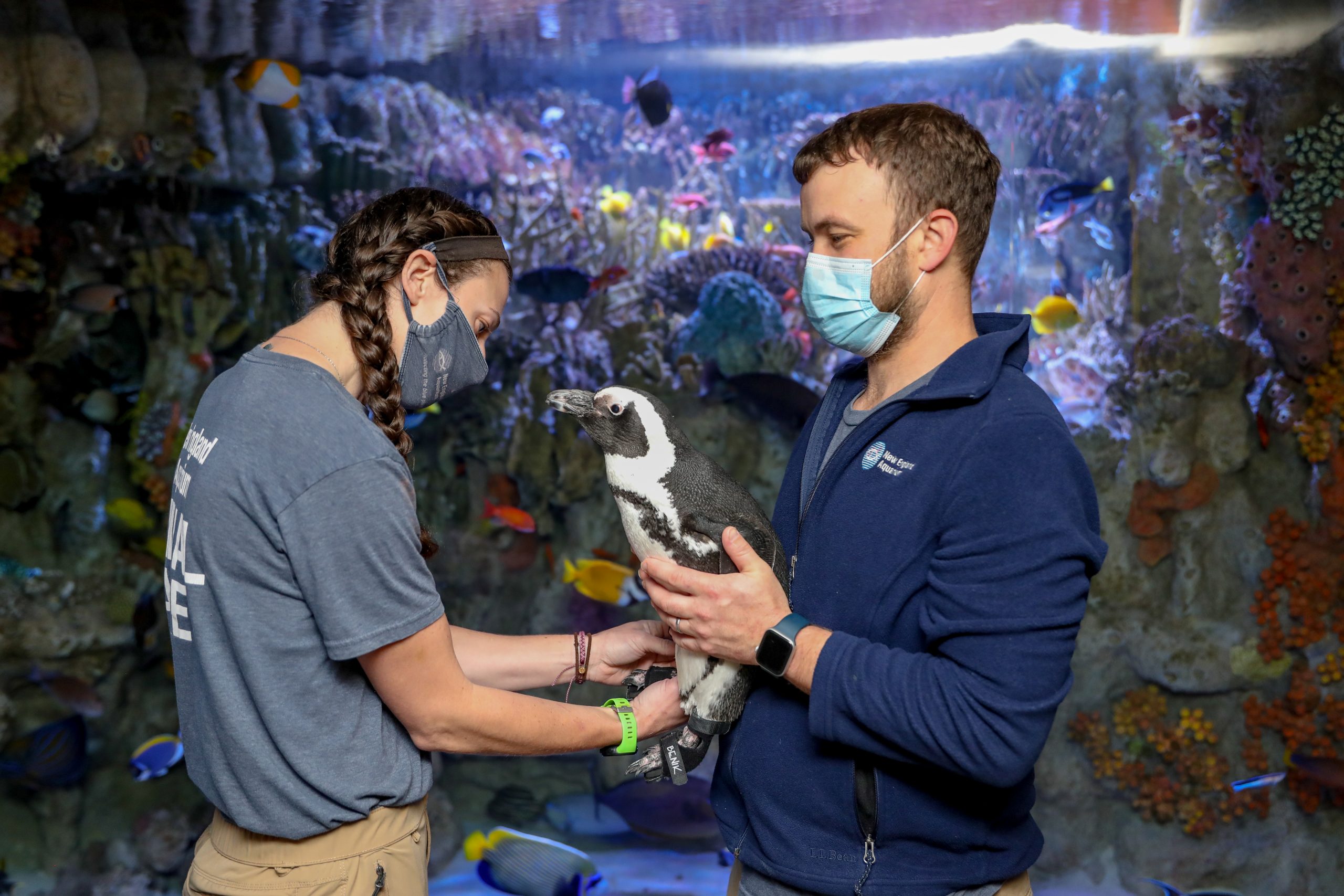 How do you get a penguin to wear shoes? For Beach Donkey, a 24-year-old African penguin who sported the custom booties as part of her treatment for a foot condition, the answer was: enjoying a few field trips around the Aquarium.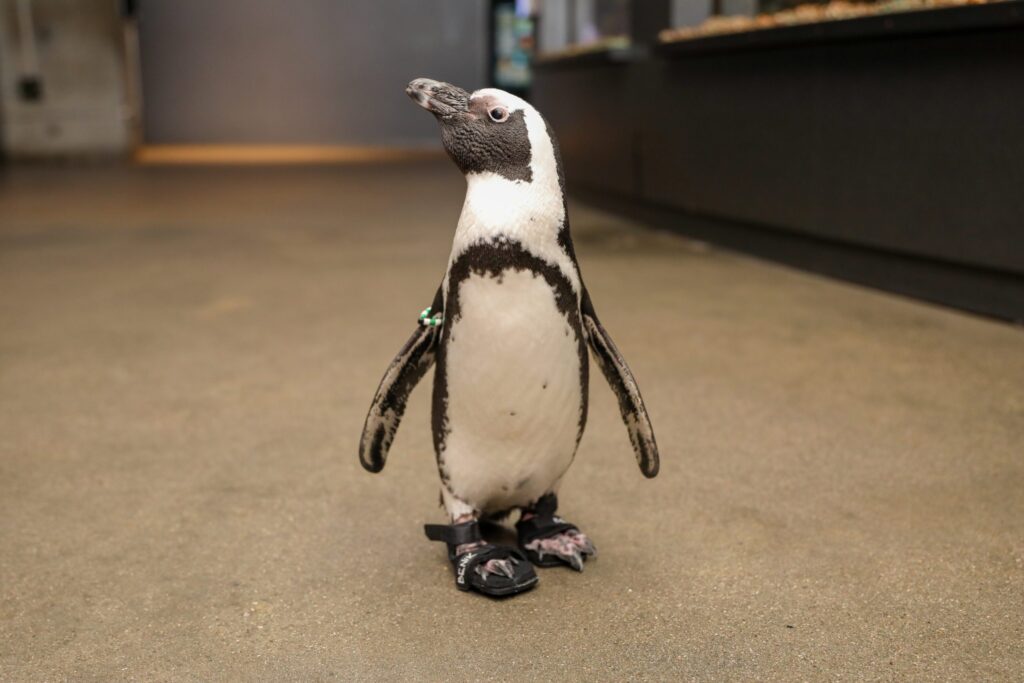 It took a dedicated team of Aquarium veterinarians and Animal Care staff nearly three years to successfully treat Beach Donkey for pododermatitis, an inflammatory condition of the feet that can lead to lesions on the pad and, if left untreated, can cause progressive infection of the bone and loss of mobility. Also known as "bumblefoot," pododermatitis affects both wild penguins and those in zoos and aquariums and is caused by a variety of factors, including age and genetics. As soon as the lesions were noticed by Aquarium staff in 2020, Beach Donkey began undergoing treatment to resolve the condition.
"Early diagnosis with routine foot checks, followed by intensive treatment, requires extensive collaboration with the veterinary and husbandry teams," said Dr. Melissa Joblon, an associate veterinarian at the Aquarium.
Along with directly treating the bumblefoot lesions, the team worked to resolve any environmental factors that could be exacerbating Beach Donkey's condition. In the areas where she was being treated, the team used kitty litter to keep her feet dry and help debride the calluses, and they placed a mat in Beach Donkey's territory in the exhibit to minimize irritation to her feet. That's also where the boots came in.
Initially, the team believed Beach Donkey would use her boots on exhibit, so getting her accustomed to wearing them was imperative. "We wanted Beach to continue to come to her feeds on exhibit, so we considered other ways to reward her in addition to giving her fish," said Amanda Barr, a senior penguin trainer at the Aquarium. Beach Donkey's walks around the Aquarium weren't just fun for her; they were important training in moving around in her custom footwear. "She has always been a curious bird and seemed to really like the opportunity to explore the Aquarium outside of her exhibit space. Of course, staff also loved when she would make appearances in unexpected places," Amanda added.
"Training an animal to be comfortable with this level of interaction and treatment requires very small steps and a positive trainer-animal relationship," said Eric Fox, the Aquarium's manager of Penguins, describing the team's approach. "Nuanced understanding of each individual penguin and what they find reinforcing is crucial to a trainer's success and is essential to the health of each penguin."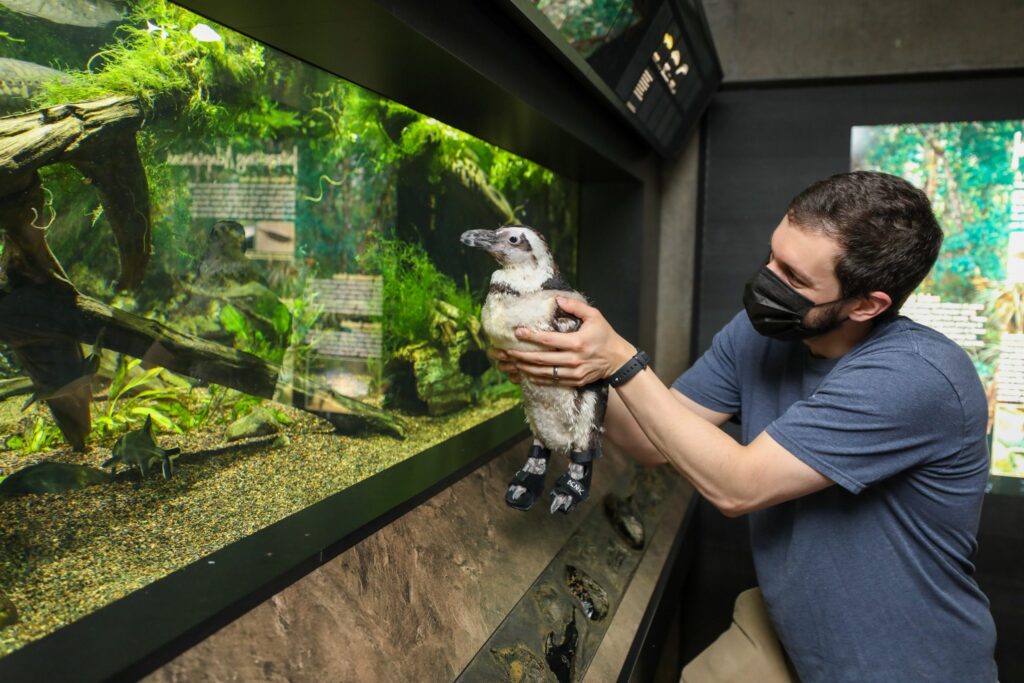 Beach Donkey enjoyed seeing novel views as she explored the Aquarium's exhibit halls and office spaces with the team, and her training helped her grow more adept at walking around in her boots and acclimated her to having the boots put on and taken off. After a successful molt this summer, Beach was able to undergo additional surgery on her feet which removed the diseased tissue. So, instead of prepping Beach Donkey to wear her shoes full-time to minimize the growth of the lesions, the team began to monitor her feet in anticipation of them healing fully. Still, all that training in her shoes helped immensely as Beach Donkey recovered from her surgery.  
"There was an extensive bandaging process post the latest surgery, which incorporated her boots as part of the bandage," said Amanda. Having been used to wearing the boots, as well as having her feet touched, contributed to Beach Donkey's success after the procedure.
Beach Donkey was approved to take her first post-surgery swim on August 25. During many weeks of healing, Dr. Joblon and other staff members very closely monitored Beach Donkey's feet, gradually adjusting her bandaging as she worked up to walking on hard, flat surfaces again. Beach Donkey officially returned to the penguin exhibit full-time on October 1.  
Today, Beach Donkey is back to spending time with the rest of the colony and swimming around the exhibit. The team continues to monitor her feet closely and believes she'll continue to make a full recovery! After a long journey, it's a success for both Beach Donkey and the Aquarium staff, who hope to share what they've learned to support the care of birds like Beach Donkey in other zoos and aquariums.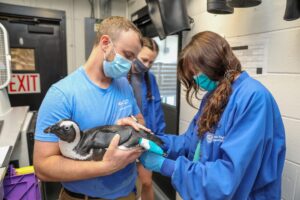 "Beach Donkey's success story is the perfect example of the individualized care that we provide to our animals," said Eric. "Through collaboration and innovative approaches, we do whatever it takes to provide the best life for each penguin in our colony. It enhances the well-being of our animals and, just as important, our collective understanding of an endangered species. " 
While her story is unique, Beach Donkey isn't the only older penguin who receives special care at the Aquarium. The majority of the penguins in the Aquarium's care are considered geriatric, and each of them is closely monitored and receives treatments—including foot checks, eye drops, and acupuncture—to ensure they're staying well. African penguins like Beach Donkey are endangered in the wild. The New England Aquarium participates in the African Penguin Species Survival Plan, which supports field conservation efforts and a thoughtful breeding program to help promote a sustainable future for these penguins. The AZA African Penguin SAFE (Saving Animals From Extinction) program also unites its member zoos and aquariums, along with a coalition of South African organizations, to ensure that the African penguin does not go extinct by 2035. 
When you're at the Aquarium, keep an eye out for Beach Donkey in the African penguin colony. You'll be able to spot her by the green and white bracelet on her right wing!  
Visit Beach Donkey at the Aquarium
Learn where you can find African penguins at the Aquarium—and see nearly 10,000 other incredible marine animals during your visit.