Raising Glassy Sweepers from Egg to Adult
The Aquarium and Roger Williams University Partner to Raise Glassy Sweepers from Egg to Adult.
By New England Aquarium on Monday, September 27, 2021

With their deep bellies, bulbous eyes, and iridescent appearance, glassy sweepers or Pempheris schomburgkii can appear like a flash of light flitting back and forth in the ocean. The beautiful nocturnal fish native to Florida and the Caribbean can be found in crevices, swimming and hiding around coral reefs.
Currently, about 75 juvenile glassy sweepers are now on view in the Aquarium's larval fishes exhibit located in the Blue Planet Action Center on the first floor. These sweepers were reared and raised from egg to adult for the first time as part of the Aquarium's Larval Program developed in partnership with Roger Williams University researchers. The program aspires to raise certain marine animal species in-house to encourage conservation and avoid removing them from their native habitats.
It's no secret that some species are more sensitive to collecting and handling than others. Dr. Andy Rhyne, a professor of marine biology at Roger Williams and Aquarium research scientist, points out that glassy sweepers are one of those fish that are fragile in the wild.
To help, 13 years ago, the two organizations combined their expertise to produce fish in the university's marine laboratory. Later, a breeding system was created and installed at the Aquarium's Animal Care Center in Quincy, MA, which houses the adult fish, or broodstock, glassy sweepers, which can grow to about six inches long.
Aquarium biologists provide the proper care and conditions for breeding the fickle fish. After spawning, the eggs are collected and transported to Roger Williams University, where they are raised from eggs to juvenile fish. The successful breeding of this fish adds an important species to a growing sustainability program which so far includes striped burrfish, planehead filefish, brown chromis, sharknose gobies, and dwarf seahorses.
The goal, says Barbara Bailey, the Aquarium's curator of Husbandry and Sustainability, is to expand the program with other institutions around the country. In years to come, the institutions will continue to raise popular public aquarium species such as lookdowns, smallmouth grunts, and glassy sweepers as part of a larger initiative. The work is part of a long-term plan that started long ago, Rhyne explains.
It's important to note that Bailey and Aquarium staff aren't interested in breeding a surplus of fish but rather just enough to maintain exhibits and programs. The program aims to satisfy the Association of Zoos and Aquariums's (AZA) Aquatic Collections Sustainability Committee goals to boost support for breeding fish in-house more sustainably. The AZA will provide oversight by determining other priority species.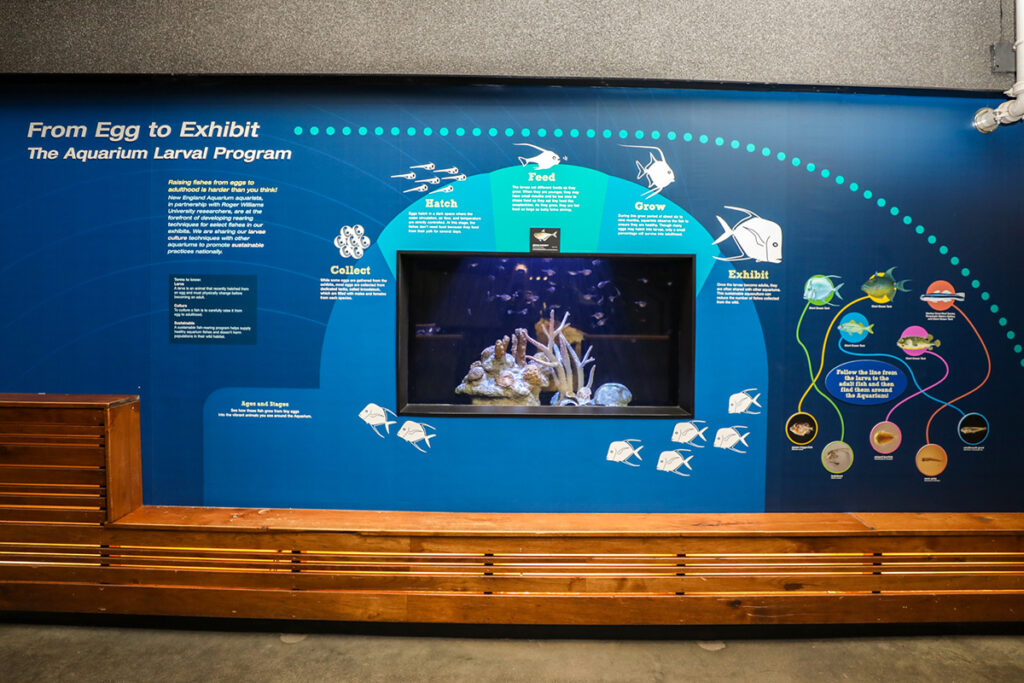 Working to Make a More Sustainable Aquarium
Did you know: Some of the lookdowns in the Giant Ocean Tank were sustainably raised from eggs right here at the Aquarium?