The Shark and Ray Touch Tank is temporarily closed for maintenance.
We apologize for the inconvenience.
Cold-Stunned Sea Turtle Frequently Asked Questions
By New England Aquarium on Sunday, November 28, 2021

Each year, the New England Aquarium partners with a number of organizations to rescue, rehabilitate, and release hundreds of cold-stunned sea turtles with the goal of returning them back to the wild. Learn more about how turtles get stranded, what it means to be cold-stunned, and how and why these turtles are rescued.
Where do sea turtles travel?
Every spring and summer, several species of sea turtles (including green, loggerhead, Kemp's ridley and leatherback) follow the warm water currents of the Gulf Stream northward, and some of them will end up in Massachusetts waters. As fall approaches, many sea turtles will migrate back to warmer waters in the Caribbean and the Gulf of Mexico.
How do turtles get stranded?
Not all of the migrating sea turtles will be able to move out of our cold waters in the fall. One theory is that many of these turtles are juveniles and aren't able to swim far enough out to sea in order to avoid the hook of Cape Cod. Another theory is that storms and winds out of the northeast push the turtles towards the coast. Since turtles and other reptiles are ectothermic (cold-blooded), they rely on their surroundings to regulate their internal temperatures. When air and water temperatures drop, so does their body temperature. When a turtle's body temperature drops too low, it becomes cold-stunned, a type of reptilian hypothermia. This means its metabolism slows down and it loses the ability to feed or swim. Some sea turtles wash ashore on the beaches of Cape Cod. These turtles suffer from a variety of problems including pneumonia, hypothermia, dehydration, malnutrition, and frostbite. Occasionally, a turtle is found that also has damage from boat strikes, entanglement in fishing gear, or ingestion of plastic.
How are they rescued?
The New England Aquarium partners with the Mass Audubon Wellfleet Bay Wildlife Sanctuary. Every year, Mass Audubon staff and volunteers patrol Cape Cod beaches during turtle stranding season, which typically lasts from late October into December, with the peak beginning in mid-November. Some of the surviving turtles are then brought to the Aquarium's Sea Turtle Hospital at our Animal Care Center in Quincy, MA.
How long does it take for rehabilitation?
Rehabilitation of stranded turtles may take months to years. Eventually, the sea turtles are healthy enough to be released back into the ocean.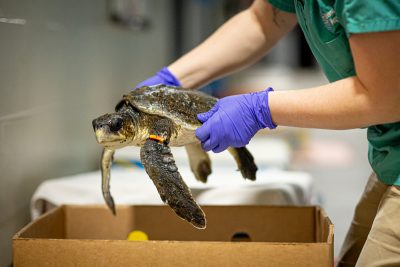 Some sea turtles are flown south to be released where the water is warmer, whereas others may be released off the southern side of Cape Cod during the summer. In order to be a candidate for release, each turtle must pass a foraging test showing they can find and consume food on their own. Turtles that are not release candidates are found homes in zoos and aquariums, much like our own Retread and Carolina, the loggerhead sea turtles in the Aquarium's Giant Ocean Tank.
Why do we do it?
Ultimately, the goal is to successfully rehabilitate and release these turtles back into warm waters. Every turtle that is rescued and released has the potential to reproduce and make a positive impact on its population, and sea turtles are crucial to the health of the ocean.
All but one species of sea turtle has an IUCN red list status. Statuses range from vulnerable to critically endangered. Not only is helping stranded sea turtles a valuable part of protecting them, caring for the turtles and releasing them with tracking tags is also a great way to learn a lot about where they travel throughout the year!
New England Aquarium Sea Turtle Hospital Tour
What should I do if I see a stranded turtle?
Sea turtles in our region do not typically come ashore unless they are seriously debilitated. For sea turtles found on beaches from Boston north through New Hampshire, call the New England Aquarium's 24-hour Sea Turtle Rescue Hotline at 617-973-5247. Please try to remain calm and leave your name and a phone number where you can be reached. For sea turtles found along the South Shore, Cape Cod, and the Islands, please call the Wellfleet Bay Wildlife Sanctuary at 508-349-2615 x6104.
Saving Sea Turtles
At the New England Aquarium, we rehabilitate hundreds of injured sea turtles each year and our scientists conduct cutting-edge research to help protect them.