The Shark and Ray Touch Tank is temporarily closed for maintenance.
We apologize for the inconvenience.
Your support makes a vital, vibrant, and healthy ocean possible. Explore ways you can support the Aquarium and its mission.
Give
Make a Donation Online
Make a one-time or reoccurring unrestricted gift to the Aquarium's Mission Forward Fund to support ocean conservation, research, animal care, and more.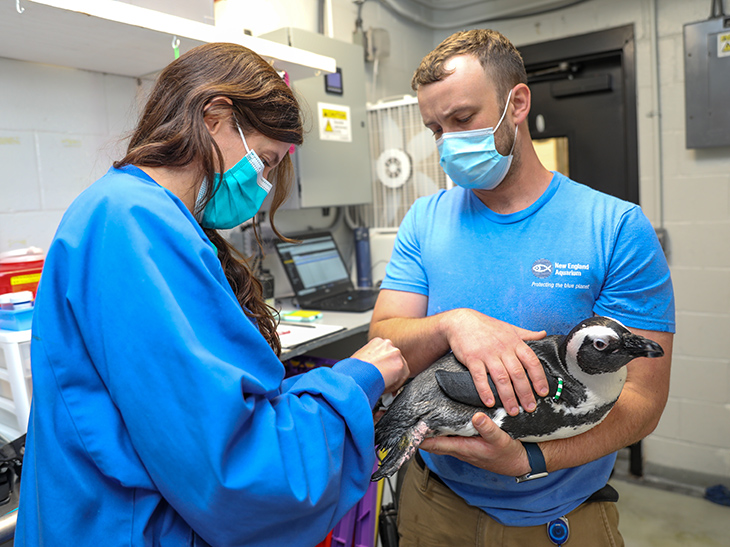 Other Ways to Give
There are a number of ways to support our ocean conservation and research. Explore the different ways you help us work towards a vital and vibrant ocean for future generations.
Please make any donation checks payable to New England Aquarium and include "Mission Forward Fund" in the memo line.
Our mailing address is:
New England Aquarium
Development Department
1 Central Wharf
Boston, MA 02110
Gifts of appreciated securities may increase the value of your gift and decrease the cost to you. You can take a charitable income tax deduction for the fair market value of the stock gift. Benefits you enjoy when making your stock or securities contribution may include:
Avoiding tax on the stock's capital gain
Receiving an income tax deduction (Federal and most states) for the full market value of your gift if you itemize deductions on your tax return and have held the assets donated for one year or longer.
To make a gift of stock to the Aquarium, please provide your broker with the following information: 
Tax ID #: 04-2297514
Brokerage Firm: RBC Wealth Management
Gift Account Contact: Matt Williams
Phone: 603-577-4908
Fax: 603-577-4959
Email: Matt.Williams@rbc.com
Aquarium DTC Number: 235
Account Number: 300-79605
Please contact Director of Development Operations Jennifer Pires with any questions: 617-226-2134, jpires@neaq.org 
Some or all of the fair market value of your in-kind gifts may be tax deductible. We encourage you to seek the advice of a tax professional to ensure the tax deductibility of your gifts. 
The New England Aquarium seeks support for a wide range of activities and projects. Most donors choose to join as members or give general operating support. However, if you wish to designate your gift to a special project or department, please contact Director of Development Annelise Conway at aconway@neaq.org or 617-793-2723 to discuss options.
Many corporations have matching gift programs in which your employer will match funds you give to your favorite charity. Please consider maximizing your charitable donation with a match from your employer.
Please note that matching gift contributions and employee giving programs may not be eligible for Aquarium membership benefits.
As a nonprofit organization, the New England Aquarium relies upon foundation support to achieve our mission, from tackling the biggest threats facing the ocean to inspiring more ocean advocates.
For more information about how your foundation can partner with the Aquarium, please contact Director of Development Annelise Conway at aconway@neaq.org or 617-793-2723.
The New England Aquarium and donateacar.com have partnered to give you the ability to donate a used car, boat, RV, or other vehicle as a tax-deductible charitable contribution. For more information, please go to www.donateacar.com.
Volunteers are a vital part of what makes the New England Aquarium so successful. Every year, more than 900 volunteers donate their time to the Aquarium. Become a volunteer today!
The Aquarium is a private, 501c(3) nonprofit organization in the state of Massachusetts.
Our tax ID # is 04-2297514.
Gifts to the New England Aquarium are tax-deductible to the extent allowed by law.
Memberships are partially deductible except for the fair market value of benefits associated.
Invitations to some events may be partially deductible depending on the event.
For more information, please contact the Development Team at 617-226-2622 or giving@neaq.org.
Leave a Legacy
Each year, the Aquarium is honored to receive bequests from forward-looking supporters, and each of these gifts is a unique legacy.
Join a Giving Society
Take your giving to the next level with an annual donation of $500 or more. Your investment in the New England Aquarium provides essential unrestricted funds with immediate impact by supporting the Aquarium's daily operations and animal care, as well as ocean conservation research and action. Let's take action for the ocean, together.
Join with a gift of $500 or more today to enjoy all member benefits plus additional opportunities based on the tiers below.
Contributor: $500–$999
Benefits:
Recognition in the Aquarium's Annual Report

Invitation to annual Giving Society Family and Friends Night at the Aquarium
Supporter: $1,000–$1,499
Benefits:
Invitations to exclusive special events
All of the benefits listed above
With a $1,500 to $24,999 donation Navigator Society donors enjoy all member benefits and Conservation Society benefits listed above, plus additional access based on the tiers below.
Freshwater Navigator: $1,500–$2,499
Benefits:
Exclusive invitations to visit the Aquarium while it's closed to the public. Along the way, meet with our experts at various points of interest to learn more about our exhibits and conservation efforts.
River Navigator: $2,500–$4,999
Benefits:
Several exclusive access visits per year to our Trust Family Foundation Shark and Ray Touch Tank. Get hands on with our sharks and rays, and enjoy insider access to Aquarium experts before the exhibit opens to the general public.
All of the benefits listed above.
Harbor Navigator: $5,000–$9,999
Benefits:
Invitations to special behind-the-scenes events at our Splash and Dive room. Learn all about a day in the life of a Giant Ocean Tank diver, and enjoy a conversation with an expert at the top of our Giant Ocean Tank.
All of the benefits listed above.
Coastal Navigator: $10,000–$14,999
Benefits:
Invitations to one-of-a-kind events where we close the New Balance Foundation Marine Mammal Center to the general public so you can enjoy exclusive access to our sea lions. Trainers and animal care experts will explain enrichment and training, followed by a Q&A session.
Opportunities to meet experts in the fields of marine conservation and animal wellbeing.
A behind-the-scenes tour for up to four people.
All of the benefits listed above.
Deep Sea Navigator: $15,000–$24,999
Benefits:
One complimentary private play with the seals day, and hands-on enrichment activities that allow close and personal time with our mammals.
All of the benefits listed above.
President's Circle: $25,000 and up
Join our most committed ocean advocates with a donation of $25,000 or more. President's Circle donors enjoy all of the Navigator Society benefits listed above, plus:
Invitation to events with the Aquarium's President and CEO.
Special access to Aquarium scientists and leadership, as well as education, research, and conservation staff members.
To learn more about giving at the President's Circle level, please contact Director of Development Annelise Conway at aconway@neaq.org or 617-793-2723.
Contact Us
Have questions about how to make the most of your gift? We are available Monday through Friday, 9:00 a.m. to 4:30 p.m. at 617-226-2622. You can also email us anytime.