The Shark and Ray Touch Tank is temporarily closed for maintenance.
We apologize for the inconvenience.
As Population Estimates Indicate Slowing Decline, Scientists Highlight Ongoing Threats to Right Whales
By New England Aquarium on Monday, October 23, 2023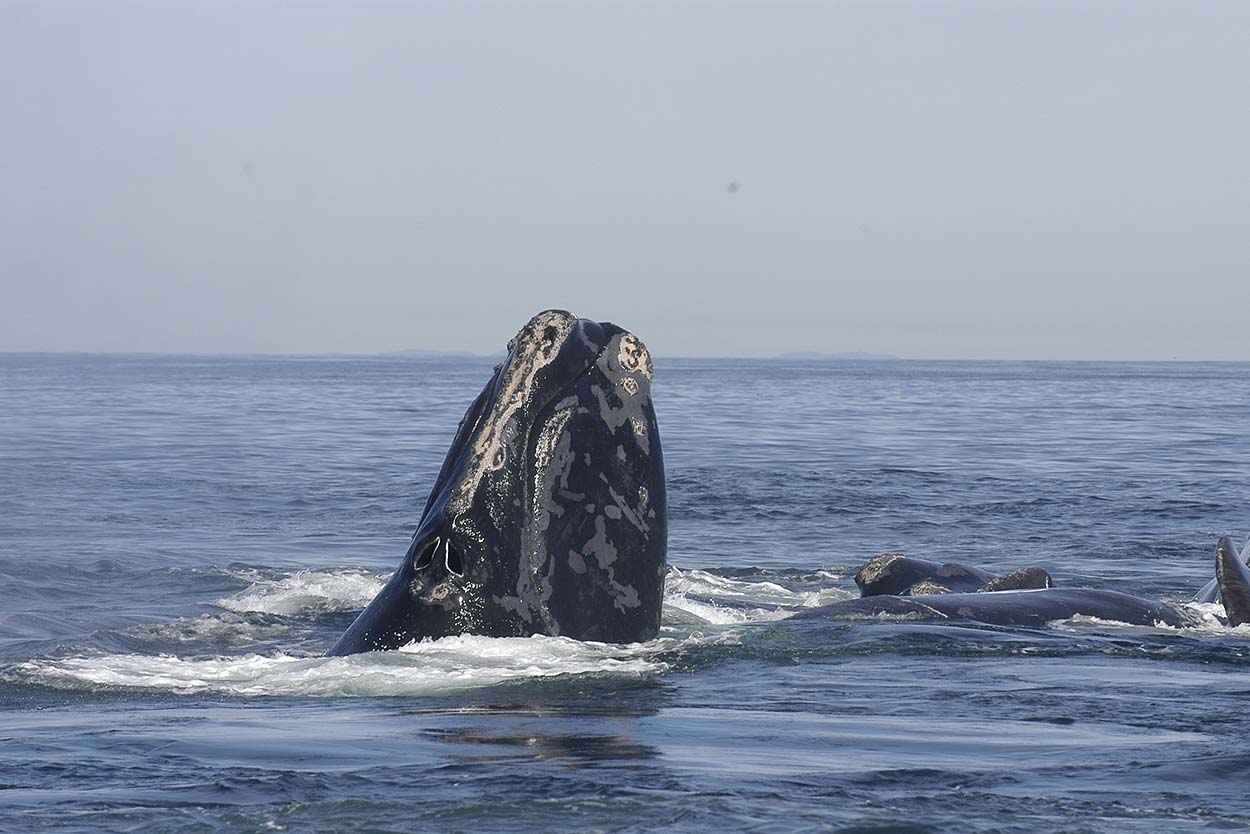 After years of decline, the North Atlantic right whale population may be beginning to level off, though scientists emphasize that the species continues to face severe threats from humans that are limiting the critically endangered animals' ability to rebound. Entanglement in fishing gear and vessel strikes remain a major cause of injury and mortality for right whales, with an equal number of animals being killed as are being born into the population.
Each year during its annual meeting in October, the North Atlantic Right Whale Consortium releases the annual population estimate for the species using the most up-to-date data, including animals added to the population in the previous year. In a new report being released this week at the Consortium's annual meeting, scientists used these updated data to recalculate annual estimates of the right whale population since 1990. The 2021 estimate was recalculated as 364 (+5/-4 for range of error)—primarily due to the 18 calves from 2021, many of which were recently cataloged—and the 2022 estimate is 356 animals (+7/-10), suggesting the downward trajectory for the species could be slowing. These estimates are the result of a collaborative analysis among scientists from the New England Aquarium's Anderson Cabot Center for Ocean Life and the National Oceanic and Atmospheric Administration (NOAA).
"While this is an encouraging change, the number of human-caused injuries that will likely lead to death or reduced reproduction in the future remains high," said Anderson Cabot Center for Ocean Life Senior Scientist Philip Hamilton. "We need to continue to reduce human-caused death and harm to this species for the population to trend upward."
Right Whale Mortalities
There were two detected right whale deaths in 2023: Catalog #3343, a 20-year-old male that was struck and killed by a vessel, and an orphaned newborn calf.
This number is comparable to the reported deaths in 2020 and 2021 and higher than in 2022, when no deaths were detected. "There have only two documented deaths so far in 2023, but that good news is tempered by the fact that two-thirds of all right whale deaths go undetected, and we continue to see elevated numbers of human-caused injuries," said Hamilton. "Our goal is to reduce the threats these animals face until there are zero deaths and no serious injuries."
Human Impacts
To date, New England Aquarium analysis has detected 32 human-caused injuries to right whales in 2023, including six fishing gear entanglements with attached gear, 24 entanglement injuries with no attached gear, and two vessel strikes. NOAA Fisheries, which has been documenting right whale injuries and deaths as part of an Unusual Mortality Event that began in 2017, implicates human-caused factors, including entanglement in fishing gear and vessel strikes, in 21 of the 36 deaths documented from 2017-2023. The impacts of these injuries from fishing gear entanglements and vessel strikes are delayed when calculating the species' population size, scientists noted.
According to scientists at the New England Aquarium's Anderson Cabot Center for Ocean Life, 86 percent of right whales have been entangled at least once, and many have endured multiple entanglements. This year, of the six whales seen entangled, two can be attributed to the same whale—Catalog #4545, who, when last sighted in the Gulf of St. Lawrence, was dragging two separate sets of fishing gear from two entanglements.
Efforts to protect North Atlantic right whales have involved conservationists, scientists, government agencies, and the fishing and shipping industries from both the United States and Canada. However, vessel strikes and entanglements continue to occur in both countries, with an increasing prevalence of entanglements, even with management measures in place. Advances in ropeless or "on-demand" fishing technology show promise, though widespread implementation will require significant financial support to escalate the manufacturing of the gear and provide training and support for the fishing industry to adapt. The National Oceanic and Atmospheric Administration (NOAA) has also been working to develop vessel speed restrictions that better protect North Atlantic right whales while ensuring both the species and economy thrive.
Right Whale Calves
Eleven mother/calf pairs were detected during the 2022-23 calving season—fewer than the 15 new calves detected during the 2021-2022 calving season and far below the average of 24 calves produced per year in the 2000s. A twelfth calf, a one- or two-day-old male, was spotted unaccompanied and later was found dead in North Carolina. Each year, the Aquarium's Right Whale Team at the Anderson Cabot Center for Ocean Life helps identify new right whale mothers and maintains a detailed list of right whale mother-and-calf pairs, complete with family histories for each calf.
"Pilgrim" (Catalog #4340) was the only first-time mother in the group, giving birth to her first calf at 10 years old, breaking a concerning trend for female right whales. Research has shown that right whales are not growing as large as they did in the 1980s and, additionally, that smaller female right whales have fewer calves per reproductive year, which may limit the population's ability to rebound at a time when birth rates for these whales are already low. There are more than 40 adult females of reproductive age seen alive in the last three years who have not yet had calves.
"While certainly more encouraging than a continued decline, the 'flattening' of the population estimate indicates that human activities are killing as many whales as are being born into the population, creating an untenable burden on the species," said Heather Pettis, a research scientist in the Anderson Cabot Center for Ocean Life at the New England Aquarium and the executive administrator of the North Atlantic Right Whale Consortium.
The North Atlantic Right Whale Consortium
Started in 1986 as a collaborative data-sharing group, with the New England Aquarium as a founding member, the North Atlantic Right Whale Consortium includes research and conservation organizations, shipping and fishing industries, technical experts, US and Canadian government agencies, and state and provincial authorities, all of whom are dedicated to the conservation and recovery of the North Atlantic right whale. The Consortium is internationally recognized and has been identified as a model for establishing other species-related consortia.
Learn More About the North Atlantic Right Whale Consortium »
Make a Difference for Right Whales
These critically endangered animals need our help. See how you can get involved with the Aquarium's work to protect right whales.