On behalf of our entire Aquarium family, thank you so much for your continued support. Here, you'll find updates for our members.
Visiting as a Member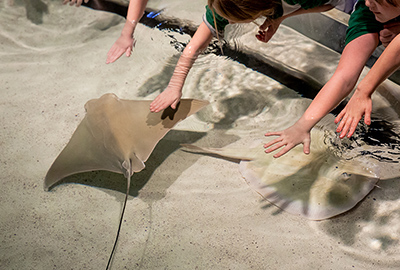 Members gain immediate entry to the Aquarium after checking in at the Information Desk—no need to wait in the ticket scanning line.
Please note:
Because membership materials may take 10-12 weeks to arrive, if you would like to visit the Aquarium within 48 hours of becoming a member, we recommend first purchasing Aquarium tickets online and then applying the cost of the tickets towards your purchase of a membership onsite at the Information Desk (in the lobby) at the end of your visit.
If the admission/ticket credit is not completed onsite, visitors can apply the cost towards a membership via phone up to 3 days following the ticket date by calling our Reservations Department at 617-973-5206.
Member Discounts
Discounted Aquarium admission for additional guests (10%)*
Discounted dining and gift shop purchases (10%)
Discounted Aquarium Whale Watch tickets (20%)*
Discounted Animal Encounters and behind-the-scenes tours, pending availability (10%)
Discounted parking at several nearby facilities (check local parking options)
Protecting the Blue Planet
Not only does your membership get you access to the Aquarium and exclusive member benefits, but your support as a member helps to power our research and conservation work here at Central Wharf and around the world.