The Shark and Ray Touch Tank is temporarily closed for maintenance.
We apologize for the inconvenience.
As the New England Aquarium's dedicated research arm, the Anderson Cabot Center for Ocean Life uses science, policy, and market-based solutions to promote ocean-friendly practices and protect marine species and habitats. Learn more about our programs below.
BalanceBlue Lab
BalanceBlue Lab is a science and innovation hub that utilizes cutting-edge research and market-based solutions to support responsible ocean use and promote a blue economy that protects our oceans. We drive entrepreneurs, ocean industries, and others toward ocean-friendly practices, sustainability goals, and climate adaptation strategies.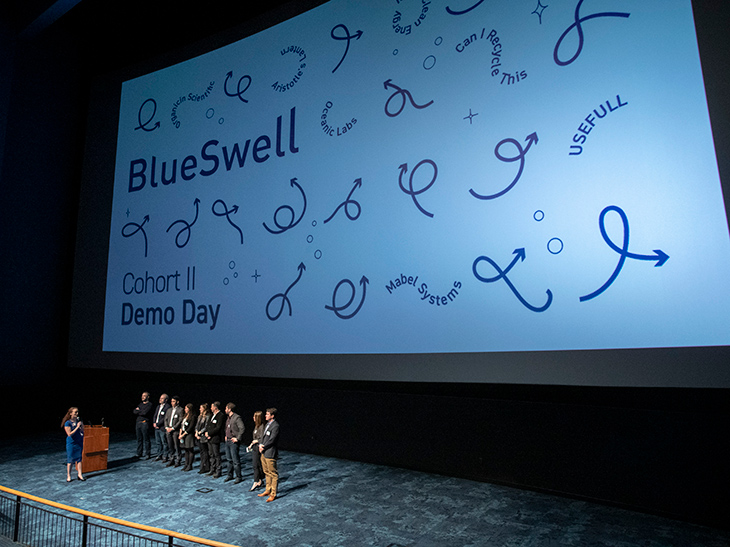 Featured BalanceBlue Lab Projects
Supporting Early-Stage Entrepreneurship in Blue Technology
BlueSwell is a first-of-its-kind incubator focused on supporting early stage entrepreneurship in blue technology. The goal of the program is to build the capacity of new founders to help them convert their big, ocean-focused concepts into profitable and environmentally responsible businesses, bridging the gap between innovators, ocean experts, industries, and the venture community.  BlueSwell launched in June 2020 as a partnership between SeaAhead, Inc. and the New England Aquarium. The program leverages SeaAhead's bluetech domain expertise, network, and experience in building companies, and the Aquarium's five decades as a global leader in ocean conservation research and as a trusted steward to the oceans.
Contacts: Emiley Lockhart
Developing Ocean-Smart Investors
UpSwell, a partnership between the New England Aquarium and SeaAhead, Inc., is a capacity-building program focused on expanding  the amount of angel investment in blue technology startups that benefit the environment and create new, inclusive jobs. The goals of the program are to (1) attract and recruit new investors; (2) increase the knowledge of investors around the scientific, environmental, and market aspect of potential blue technology investments; (3) increase investor knowledge on good investment strategy; and (4) enhance the ability of SeaAhead's Blue Angels Group to deploy capital and scale effectively.
Download our first whitepaper: Aquafeed Innovation: Investment Opportunities for Responsible Aquaculture
Contacts: Emiley Lockhart
It is critical for food security and the environment that responsible aquaculture and wild fisheries practices be promoted and maintained. Good practices protect the ecosystem services they rely on, avoid disease and bycatch, prevent negative impacts to wild populations, use resources wisely to address wider impacts, and promote strong, transparent, and enforceable regulations that balance production with aquatic ecosystem protection. The experts at the Anderson Cabot Center for Ocean Life at the New England Aquarium have a proud history of supporting this work and continue to leverage innovative applied research to develop new impactful partnerships, share critical tools and insights with industry, and advance environmentally responsible aquaculture and fisheries production through market-based initiatives. Our experts' influence extends from the local to global level, as we continue to find new and innovative ways to drive responsible ocean use and environmentally responsible seafood production.
Contacts: Michelle Cho
Fisheries Science and Emerging Technologies (FSET) Program
To effectively manage and conserve the ocean's resources, decision-makers need sound scientific data. We use cutting-edge technology to investigate critical fisheries issues, providing resource managers with the information they need to improve species, fisheries, and ecosystem management.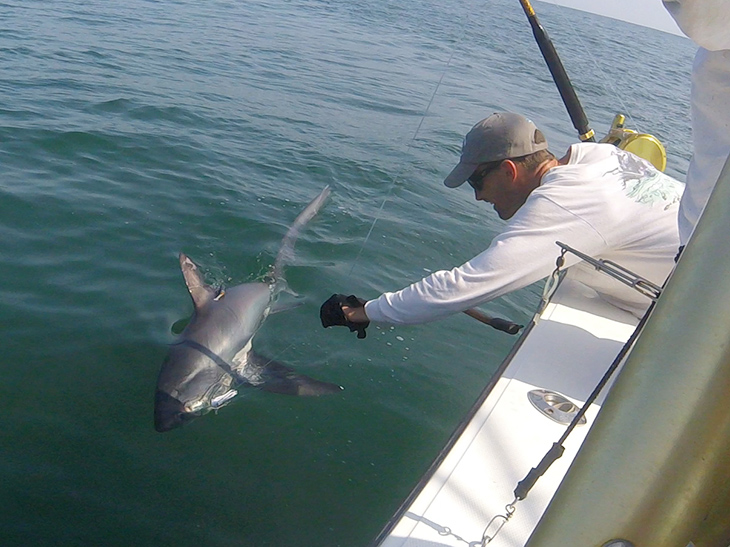 Featured Fisheries Science and Emerging Technologies Program Projects
Kraus Marine Mammal Conservation Program
Since 1980, we have led research and conservation efforts on the critically endangered North Atlantic right whale, monitoring how human impacts have threatened this species. In collaboration with a community of researchers, we focus on using long-term data to evaluate the health of the species, monitor their habitats, and advocate for protective measures.
Featured Kraus Marine Mammal Conservation Program Projects
Ocean Policy Program
Our policy team links science to policy to create tangible avenues to conservation action across species, spaces, and sectors—action that addresses the major challenges facing our ocean due to climate change. The Aquarium conducts the research needed to ensure reliable data is available for use in decision-making processes and industry practices.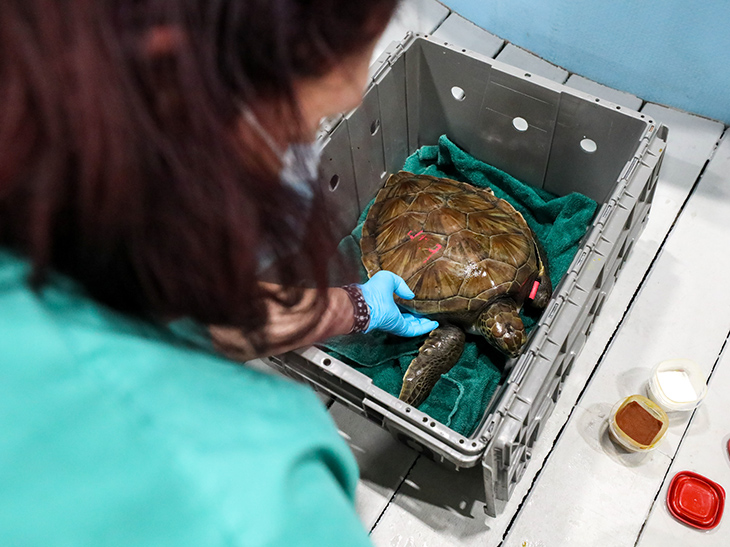 Featured Ocean Policy Program Projects
Co-develop science-policy solutions to address the human caused impacts to marine species in a changing climate, including impacts to marine mammals, elasmobranchs and sea turtles.
Marine Mammals: The leading causes of mortality confronting the critically endangered North Atlantic right whale are entanglement in fishing gear and vessel strikes. When not lethal, entanglements make it harder for right whales to grow and get pregnant because of energy loss associated with entanglement. Guided by the science showing the problems caused by entanglements, the Aquarium supports a generational transformation to remove vertical fishing rope from the water column and implement ropeless or "on demand" gear as fast as practicable: ropeless technology is a path forward to prevent unnecessary deaths and injuries while keeping fishermen on the water. The species recovery has also been limited by the effects of vessel strikes. The current level of vessel strikes to right whales exceeds sustainable levels of impact. We conduct scientific research to inform whether, where, and for how long certain vessel sizes should be subject to speed restrictions so that the smallest spatial and temporal footprint needed to protect right whales from extinction can be embraced by the broader vessel-based community. Our work and its associated data are relied upon to support regulatory protection of North Atlantic right whales, and we have served as expert witnesses for congressional testimony on the matter.
Sea Turtles: Sea turtles are economically and culturally important and serve important roles in the environment, maintaining healthy habitats, and cycling nutrients between the land and the ocean. Thousands of sea turtles are killed or injured globally each year by human activities, and the majority of sea turtle species are now endangered. The many threats to sea turtles include interactions with fishing gear, alteration and loss of habitat, extreme weather and climate change, boat strike, pollution, oil spills, and environmental toxins, such as the toxin that causes red tide. We study turtles across the breadth of their life cycle, from nesting females, to juveniles, to adults, and the Aquarium's turtle hospital has one of the highest caseloads worldwide, treating hundreds of patients each year. Our work and its associated data have been successfully used to support legislative protection of sea turtles, where we have also served as expert witnesses for congressional testimony on the matter.
Elasmobranchs: The Aquarium has a strong focus in applying cutting-edge technology to answer important fisheries questions, including a robust elasmobranch research program. Thorny skate abundance in the Gulf of Maine is currently at historic lows despite a possession ban on the species since 2003. At present, it is not known if the continued decline is due to ongoing incidental fishing mortality, environmental factors that are affecting the population through reduced productivity and/or distribution shifts, or a combination of these factors. To answer these questions, we worked with local commercial fishermen to deploy pop-up satellite archival tags and investigate thorny skate movement patterns and habitat use in the Gulf of Maine, and to estimate the discard mortality rate of thorny skates that are caught as bycatch in the northeast commercial trawl fishery. Data collected by these studies are currently being used to better define thorny skate population structure in the North Atlantic, and have improved our understanding of the role water temperature and fishing pressure play in the species' recovery in the Gulf of Maine.
Developing strategies for responsible ocean use
The Aquarium's scientific research is directly contributing to the 30×30 initiative, including in the U.S. as part of the federal America the Beautiful initiative. Protected waters are one of many ways we work to tackle the biodiversity and climate crises facing our collective communities, while supporting responsible ocean use. For example, the Northeast Canyons and Seamounts Marine National Monument was established due in part to our extensive research. Our research has also demonstrated that this Monument has some of the highest marine mammal diversity on the U.S. East Coast. We conduct aerial surveys of the Monument that reveal an area teaming with wildlife (e.g., sperm whales, whale sharks, Chilean devil rays), and we brief legislators on the ecological and cultural importance of this and other protected areas. We inform the development of strong, holistic management plans for marine national monuments and national marine sanctuaries to effectively steward the areas long after designation. As we prepare for climate change and sea level rise at our home on Boston's Central Wharf, we support a more comprehensive approach to waterfront planning that incorporates climate "resiliency, accessibility, and inclusivity." Through partnership, we seek to protect our coastlines and build more resilient communities.
A fight against the climate crisis
A major transformation of the ocean-based blue economy is underway with the development of offshore wind and aquaculture, among other viable blue economy innovations. A responsible future blue economy prioritizes science, equity, and conservation and is where clean energy and food security needs are met alongside the protection of species and marine habitats. In an already highly used and warming ocean, we supports the need for rigorous, scientifically based review of industry development, practices, and ocean policies—from renewable offshore energy to fishing—to avoid, minimize, or mitigate harm to marine species and their habitats. Leading with science, we work with state and federal policymakers and industry to promote the responsible use of the ocean, such as through our responsible blue economy state legislative agenda. For more than a decade, the Aquarium has led surveys of marine animal habitats in waters slated for wind energy development. New England Aquarium's scientific research informs state and federal decision-making and contributes to the data collection needed to understand and adaptively manage impacts to marine species.
Spatial Ecology, Mapping, and Assessment (EcoMap) Program
Researchers with our EcoMap team assess risks to marine species from human activities and climate change. We conduct our assessments in collaboration with stakeholders to develop solutions to the most pressing marine conservation challenges.
Featured Spatial Ecology, Mapping, and Assessment Program Projects
Wildlife and Ocean Health Program
Our mission is to understand, monitor, and reduce the consequences of human activities on the health of marine species and ecosystems. We take an integrated approach to assessing wildlife health, often pioneering innovative tools, to deliver evidence-based science on how animals are affected by a rapidly changing ocean.
Research Publications
Find the latest published, peer-reviewed research from Anderson Cabot Center for Ocean Life scientists.